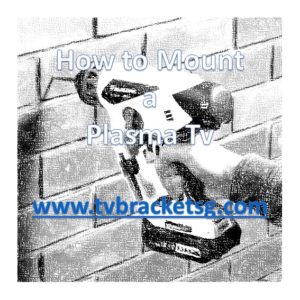 Your brand new plasma TV just got home, your blood is pumping high, you can't wait to start watching, you have got it out of the box — so what next? To start finding where to mount it to watch your favorite game easily, or your favorite movies.
However, if your new Plasma TV is not mounted properly, you might end up causing serious damage to your TV.  Or you might say, "Well, I will just keep it on entertainment center". Don't get me wrong, entertainment center is not bad, but
Flat screen TV are meant to be mounted, and it gives you the best viewing angle.
TV bracket in Singapore holds up to 150Ibs (68kg), but most plasma TV are around 40–65Ibs. So there is no worry about falling.
Also there is no risk of your children or pet to fall the TV. Moreover, no injury to your kids center.
In addition, it saves space and prevents eye, neck straining.
Here's how to keep that flat screen TV on the wall, as long as you have everything you need.
Purchase a TV Bracket In Singapore And Make Sure It Is The Size Of Your TV
Make sure you are buying the proper wall mount for you plasma TV and for the kind of wall you will mount the TV on.
Make A Decision On Where To Posture Your TV
Make sure you choose the proper location because, proper viewing angles are very important, so to get the best viewing quality. If wrongly done, it might lead you to move the TV after you are done working, and leaving extra holes in your wall.
Use Stud Finder To Locate Your Stud Wall
It is important that the screws that will hold the TV to the wall are not screwed into the wallboard. But, should be screwed at the solid timber of a stud.  Stud finder is the appropriate tool to find this timber. And, you can purchase yours for less than $20. For best results, make sure to locate the middle of the stud.
Once you've found the stud, sell tape (recommended) it or mark with a pencil, to remember the position. Take your vertical measurement.
Also, check twice if the mount is leveled, with a level. It is very important you check twice, to avoid fixing it again, which will be hard to do. Further, use big screws, and drill holes into where you marked.
Attach your TV bracket to the wall
Hold your TV bracket in Singapore to the wall and drill the screws into the holes you previously made.
Attach the TV bracket plate to the TV
If you haven't removed the stand from the TV, you need to do that. Find the plate attachment holes, behind the TV, sometimes these are covered or already have screws in them. You have to remove them if covered.
Finally, hang your TV at the wall
You don't have to do this alone. Grab a partner, it can be confusing to do alone. Make sure to carry the TV with your legs, to avoid injuries. Follow the manufacturer's instruction to hang properly.
Necessary equipment to mount your TV
Before you start mounting your TV, these are the required tools to effectively produce the result you need.
•       Stud Finder
To avoid regret, you shouldn't mount your TV outside a stud. That is to say, this tool is a "must have", for highest support.
•       Masonry Bit
This drill bit will help you to make holes in the wall.
•       Power Drill
Screwdriver can also work, but for speed and accuracy, this is advisable.
•       Level
You can't depend on your eyes to get the accurate measurement. Level will help you to make sure your TV is in level shape. Also this will help you to avoid, make too many holes you don't need on the wall.
•       Sellotape or (Optional)
When you locate your stud, mark it with your sellotape. Using a sellotape is much easier to see than a pencil mark. Add it prevents you from writing on the wall.
This is the major reason you are doing this. So, you will need an accurate TV mount needed for your TV model. Read your TV manual for the proper measurement and purchase a TV bracket right for. Also, if you need help to choose a proper TV bracket for you, we are here for you. Check our list of the best TV bracket for you (LINK)
Mounting a TV can be risky sometimes, during installation there might be some issues. And, if not properly done, will lead to serious damage on your Plasma TV, which will end up in regrets. It's always a good idea to have an expert to take the regret off your neck.  With 7 years of experience, registered and trusted by our customers. We promise to deliver the service you need. Schedule a call now.