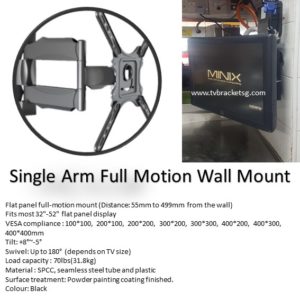 A TV that is mounted on the wall looks much more pleasing to the eye than a big TV that needs a stand and takes up extra space. There is no dearth of options of TVs in Singapore with the many kinds of plasma TVs, flat TVs, HD screen TVs, etc. With such sleek TVs, people want the setting to look stylish and mounting it seems like a good idea. To mount a TV on the wall, one needs a TV bracket, which does not cost much.
In order to buy a TV bracket in Singapore, opt for a sturdy one, which has the capacity to hold and balance your TV. Customers who own a flat screen TV need to follow a few easy steps to mount their TV on a TV bracket. Here is an easy guide:
Select the type of TV bracket you want according to your requirements. There are three most popular TV wall mounts out of which the low profile wall mount is the cheapest and the easiest to set. However, it cannot be adjusted later. The tilting wall mounts can be tilted at particular angles and are a bit more expensive. The full-motion wall mount lets you swivel your TV in every direction so that you can view it from various corners of the room. It is, however, the most expensive type of bracket. A flat-screen TV can be put on any of these.
The second step is to follow the instruction manual and then mount the brackets at the back of your flat screen.
The base of the TV should be removed before attaching the brackets.
Before laying the TV on its face, remember to put it on a soft surface.
There will be four holes at the back of the TV on which the bracket needs to be placed.
Carefully align the brackets as instructed in the manual.
Keep a screwdriver handy to tighten all the bolts.
Holes need to be drilled in the wall after having measured the distance between each of them according to the distance between the brackets.
Pick up your flat screen TV and mount it on the wall by securing the bracket on the holes.
Before leaving it immediately, pull it lightly from all sides to avoid a disaster of the TV falling down in case the bolts were loose.
Although this is a comprehensive guide, do not forget to go through all the details of your TV bracket manual to ensure a faster way of mounting a flat screen TV on a TV bracket.