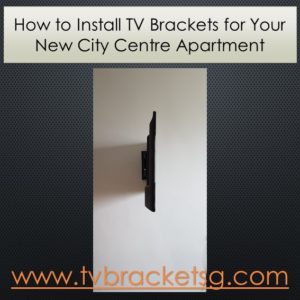 Choosing the right Tv Bracket in Singapore for your TV in your New City Centre Apartment can be a difficult decision to make. Since television is one of the most important appliances in your house, it is normal to carefully choose the perfect spot. Some of you might think that wall mounting a TV is a simple and quick process – but you are totally wrong! It is not just you buy a TV bracket in Singapore, install it, and you are done. There are several things you need to consider especially if you are living in an apartment.
In this article, we will show you how to install your TV bracket in Singapore for your New City Centre apartment. Keep reading below to know more about the details.
Mounting Your Television on the Wall 
Do you know that your television is the center of your wall units? Aside from giving you additional flooring space, it will give your house an additional design and style. You can simply design it by putting a long shelf above your television and serves as a frame. To beautify it, you can choose minimalist-themed decorations to complement your TV very well.
Hanging Your Television on the Ceiling
If you want something different to hang your TV, then hang it on your ceiling. It will also provide you extra space and offers you light feeling and ambiance which is important for rooms that have limited flooring space. Furthermore, if you have children in your household, this is a better option as they would not touch or reach it.
Placing Your Television in a Recessed Wall
Installing your television in a recessed wall is a brilliant idea if you are rooting for a modern room look. On the other hand, you have to install an outlet at the back of your television and frame everything to make a sleek and stylish outcome.
Mounting Your Television With Several Shelves Around It
To achieve this idea, simply mount your television using your TV Bracket in Singapore and install several shelves around it. This set up is perfect for those people who have a collection of books, DVDs, etc. With this, you will be able to create a stylish look and stored all together in one place.
Hiding Your Television Using Slide Panels
If you are looking for something different and amazing idea to wall mount your TV using your TV Bracket in Singapore for New City Centre Apartment, then this kind of set up is the one you are looking for. This idea is a brilliant choice for those who can't stand the huge black box that occupies a lot of space in the living room. With this, you can achieve a neat and elegant look of your living room.
Wall-Mounting Your Television
So, you have purchased a new television and you feel nothing but the excitement of mounting it on the wall. Surely, you are thinking of some possible ways to do it on your own but the most efficient and safer way to install it is to hire a professional. There are a lot of things that a professional does know compared to you – so it is recommended to ask help from them to make sure that your newly bought LED television will be safe and secured. Additionally, the right tools and equipment are needed to efficiently install your television using TV bracket in Singapore.
When hiring a professional TV bracket installer, ensure that you hire them from a trusted and reputable company like TVBracketSG. You can check their website at www.tvbracketsg.com and from there, you can also find the high-quality TV bracket in Singapore. They will help you choose what type of TV bracket you need to use to install your TV as not all TV brackets will work on every TV.
Wall mounting your TV is a great idea but if you are renting in an apartment, you have to ask your landlord first if you are allowed to install it or hang it on the wall – of course, to avoid conflict. If your landlord is not in favor of the idea of drilling holes, there are some ideas you can find over the internet that doesn't require drilling – you can freely try those tricks and tips to if you definitely want to wall mount it. For TV bracket in Singapore products and professional TV bracket installers, feel free to contact TVBracketSG by visiting their site mentioned above.