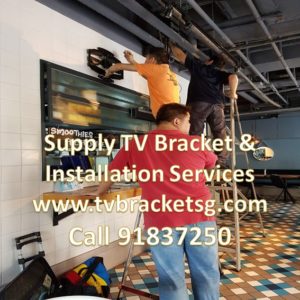 If you have finally replaced your older television set with the new flat one, then you might be considering to wall mount your new TV. It is a good decision as it frees up a lot of space in your house and also looks good. The task of mounting a TV could be cumbersome. It is better to go with our services to have a hassle-free installation.
But if you are doing it on your own, then you should follow some instructions as per given below:
Step 1: Mount brackets to your TV
Before starting on, it is really important to choose a TV bracket in Singapore that is compatible with your TV. If you have found a perfect size, then go on! In case, you have got a base with your television set, there is no need to attach it. If your television has a base, then you have to remove it for wall-mounting it.
Lay your TV with its glass down on some soft or padded place and try to locate four holes on the back of your TV. Now, mount brackets on your TV while ensuring the correct way of doing it. You can make use of a screwdriver to tighten bolts.
Step 2: Mount your TV to the wall
In order to wall mount your TV, you should find studs on the wall. For this, you can use a stud finder. Now, mark the studs with pencil and then, drill holes into them. After that, place the bracket on the wall where you have just drilled. It is better to get more hands than doing it alone.
Then, hold the bracket still and screw the biggest bolds into the holes. Now, place your TV on the wall mount. Make sure to tighten the bolts attached to the bracket. Attach cables and you are done!
Please ensure that the bracket that you have bought for your TV is sturdy enough to hold the weight of your television or otherwise, you know the outcome! The wall-mounting of television might be sounding easy but it is not actually.
So, it is better to leave this cumbersome task to professionals like us. You can choose our installation services if finding it hard to wall-mount your TV. We make sure that you get the best products as well as services in Singapore. Choose our services for better results!