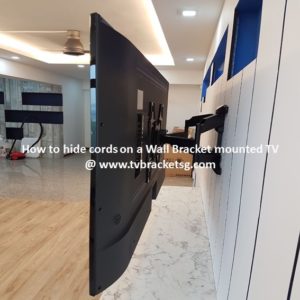 Mounting the TV on a wall for many people seems to work just fine. It is the best decision but there is something unsightly that has discouraged so many people from installing the TV brackets in their home. The hanging cords from the back of the TV when it gets hanged on the walls.
Hiding the TV wires
many people love the idea of the TV brackets in Singapore, but the ugly looking wires discourages them and therefore at TvbracketSG, we've prepared a guideline on how to hide these wires. But before anything else, you need to check that you have everything that you'll require for the success of this venture.
Step 1 # attach the power to a plastic tube
this is the first primary step. The outlet power is to be attached to a plastic tube that you've placed behind the wall through 2 holes drilled into your wall. The wires will run through the plastic tubing. The top of the tube has the power plug, where you'll plug the TV. The tube will run through the two drilled holes in the wall.
Step 2 # attach the bracket on the wall
this is just the normal procedure. After placing the mounting bracket on the wall, figure out where the 2 holes need to be so that the top one is hidden behind the Tv the other end needs to be close to the floor. This is where an existing wall outlet is.
Step 3 # push the tube with the cord through the hole
this is easy and fast. All you need to do is push the tube with the cords inside through the hole. It looks hard but in reality it is very easy. Remember to make sure that every cord or wire is inside the tube before running it through the holes.
Step 4 # secure your TV and plug the wires
After you've set up everything, it is time that you secure the outlet to the wall behind the TV. More to that, make sure that you have fixed all the wires into the TV and the power cable.
Make sure that every wire is accounted for otherwise you will have to repeat the whole process. If you need a second set of hand, you can ask your family member.
The process is quite easy. Now you have no reason to be afraid of buying the TV brackets in Singapore. Having the wires hidden presents a cleaner living room that isn't clumsy.