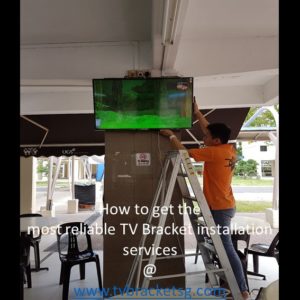 It is every household's dream to have a large TV which comes with a better picture and huge film experience. But with limited space to accommodate it, most people now choose to mount their TVs on walls.
Mounting your TV sounds like a good idea, but if you have to install the TV  yourself, then the whole concept starts not to look good at all. Mounting a TV on the wall is quite a daunting task, especially if you are not a professional.  Therefore once you buy your TV Bracket in Singapore, you need to get the most reliable TV bracket installation services.
There is so much that can go wrong when mounting your TV and therefore you need to know what to look for when hiring an installation company.
How experienced is the company
Choose a company that has been doing this job for a long time to avoid damages on your wall and subsequently breaking your TV. Make sure they come with their equipment and enough workforce to get the job done quickly.
Are they reliable?
Imagine writing off a whole day waiting with the hope that a TV installation company will send a technician as promised and they don't show up at all? It can be very frustrating. To make sure the company you hire is reliable, check for customer reviews. Some companies even have stars where customers can rate their reliability. Since all these reviews can cause an impact on their business, most reliable companies will tend to show up when they say they will show up to protect their image.
Are they highly skilled?
The most professional company provided will give you a profile of the person they are sending to you. If there is no profile provided, make sure you ask for some background information before you allow them to start any work as you might end up losing your expensive television.
How Flexible is the company?
Sometimes things do not always go as planned and you might need to cancel your appointment. Find out how many hours of notice you need to give to get another date. Find out also whether they would be willing to work with your program in case you have a tight schedule.
Do they give guarantees?
Most reliable companies understand that even with all the expertise provided, anything could go wrong.  Find out from you your choice of company how many days' guarantee they give. Most reliable companies offer a 90-day warranty.
What are the exact services offered
Most companies will only provide essential services like only fixed mount brackets so if you want other services like tilting or full motion find out before hiring to avoid confusion. Some companies do not even mount a specific size of a TV, and others only do it on dry walls. Most of these companies will not tell you all this, so ask the questions before signing the dotted lines.
Are their charges reasonable?
Although TV mounting is a lot of work, the charges should be reasonable and should not cost the same as the price of your TV. Do your research from many companies and compare the prices. There should not be such a massive difference in the pricing; therefore, in case one company proves to be more expensive, find out what extras they offer. Make sure there are no hidden charges.
We highly advise you not to trust your TV mounting to just anybody. There are many freelancers masquerading as professional TV mounters, and they will even offer you cheap services. The risks that come with hiring such people is, however, more expensive. In case of any damages, you may not know where to report ending up in loses since these freelancers have no physical address and the companies may not be registered.
We at https://www.tvbracketsg.com/blog/ are a registered company, and once you buy your TV bracket in Singapore, you should hire our services as installers. We have been in this business for more than six years, and we will not only provide installation services, but we also sell TV wall brackets. Click on the link, and we will give you a variety of TV brackets in Singapore to choose from. We will then go ahead and book you for installation.