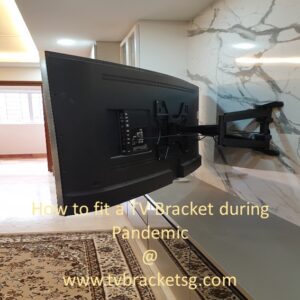 Are you fond of a minimalist, clean look, and would like to save on some space? Mounting your TV could be an excellent option for you, especially if you have a small house. It will also give you a streamlined look with the best viewing angle, and your TV will not be in any danger if you have kids or pets.
With that being said, you must ask yourself, "how do I fit the TV bracket on the wall without causing any damage?" Well, mounting a TV on your own might have come across your mind, especially during this pandemic, when you spend most of your time in the house.
But how do you do it? What kind of tools do you need? Which is the best location for you to mount your TV? And do you have a TV bracket already or might need help getting one? All these questions need answers to have a successful installation. The good news is that this article will solve all that for you by providing a substantial guideline on what you need to know.
Do A Quick Survey On Your Walls
There are different types of walls that you should know because you'll need to be extra careful with some. Here are the two main ones….
Stud Walls
These are usually made from a wooden 'stud' frame with plasterboard on it. Although walls made of wooden studs are tough enough to hold a TV, you should consider checking the weight of the TV first because there is a maximum weight for plasterboard fixing.
Brick Walls
You can mount any TV on these walls no matter how heavy it is. Brick walls are exceptional and have a secure fitting. However, when fixing the TV, ensure that the mounts go into the brick and not the mortar.
Get a TV Bracket
Before buying a TV bracket, you need to think of a trustworthy company, and TV brackets in Singapore would be a great option. They are well-equipped, and it is a trusted company, unlike many freelancers out there without a registered company. We have been in the market for six years now, and we offer reliable and effective services to our clients.
Our products are of high quality, and we give professional advice to help our clients make better decisions on what they really want. So, it is the best place to get a TV bracket to mount that TV! If you might be wondering about our price, it is affordable and friendly, so fret not! We charge an adequate fee, bearing in mind that our products are a good value for money.
Reach us out, and we will help you get a TV bracket that supports your TV well. You could also opt for our TV installation service if you find it challenging to do it yourself. All you need is to make an appointment and leave the rest to us. The goal of TV brackets in Singapore is to provide the best services to highly valued clients.
Other requirements
Pencil
Screwdriver
Spirit level
Power drill
Stud finder
Rawl plugs
Tape measure
If you have the tools above already and have identified where your TV's going, great! Let's get started.
Position the TV where you want it to go. By doing this, you will be able to tell whether the TV is too low or too high, and you can mark the right position using a pencil or a tape.
Fix the bracket to the wall. Position the bracket to the wall. To ensure that the bracket is straight, use a spirit level while marking the bolt holes. Are you happy with where you want to position the bracket? Now make pilot holes using a power drill.
Fit the bracket to your TV. Since you have mounted one part of the wall mounts on the wall, it's time to fit the other one to the TV. Lay your TV on the table with the screen-down, look for the mounting holes and once you find them, firmly attach the mount.
Attach all necessary cables and lift your TV into position. Connect cables like HDMI cable, aerial cable, and power lead and anything else you need to be attached to your TV. Use someone's help to lift the TV into place, and then secure the two parts of the bracket with a screwdriver.
And there you go! Chill out, and start enjoying watching your favorite show on a wall-mounted TV.
Did you find it challenging to fit the two parts of a TV bracket? TV Brackets in Singapore will not only get you the best TV bracket but also help you with the fitting process. Contact us to get outstanding services, professional advice, and various installation options.