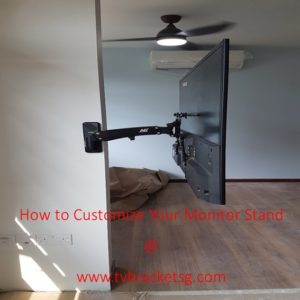 If you want to customize your monitor stand, it might be good to invest in a durable solution. Sure, you can purchase a new monitor stand or you can customize your existing stand too. These days more and more people are using computers at home or at their workplace. Monitors are now becoming an integral portion of workspace. People are spending most of their time in front of the monitor, therefore the issue of safety and comfort has been addressed. Spending lots of time in front of a monitor at the workplace can cause back pain and neck pain related issues. IF you don't place your monitor at the right position it can cause eye complications too.
Ergonomic engineers are working constantly to build the latest desktop monitor stand to overcome issues related to monitor stands. The single adjustable monitor stands are used to reduce strain on the human body. If you are struggling with the same problem and want to customize your monitor stand, the TV Bracket in Singapore have all the solutions for customization of your monitor stand. They are working in this field for many years and they know what is right for your monitor and what you need to customize your monitor stand.
How to Choose Right Stand for Your Monitor
If you are looking for your monitor stand customization, it's a good idea.  Monitor stands come in various sizes and designs, everyone has their own taste also depends on their needs. If you have no idea how you can customize your monitor stands don't worry TV Bracket in Singapore have the best monitor stands for you and they also help you to choose the right kind of monitor stand for your monitor. These stands come with an adjustable height of 2.3 to 7.5 inches, this will help you to adjust your monitor according to your comfort position. It will help you to level your monitor to give you extra comfort and flexibility.
Some stands come with a stable design and can be tilt up to 30 degrees, it means you can set your monitor to any position safely because they have a very wide base to hold the weight of the monitor. You can use these stands at your home too for watching your favorite shows and movies. The title feature of these monitor stands by TV Bracket Sg is best for giving you extra flexibility and comfort. Let's take a look at some important steps to pick the right kind of monitor stand.
Step 1: The first thing is to consider is your monitor size this is the most important inquiry to pick the right stand for your monitor. If you pick a stand that cannot bear the weight of your monitor, it can increase the chances of damaging your monitor. Always hire a professional from TV Bracket in Singapore to make sure you'll buy the right monitor stand.
Step 2: Are you using your monitor individually or it's a shared monitor? Some organizations can't afford many monitors for every individual. Keep this factor in your mind and TV Bracket in Singapore expert professional will help you out to buy the right kind of monitor stand so it can work for both individual and sharing a purpose.
Step 3: Monitor usage plans. How you are planning to use the monitor it's an important point to consider while choosing a monitor stand for your monitor. Do you are going to use your screen daily or going to use your monitor periodically? If you are going to use your monitor for long hours, it's a good idea to select an adjustable monitor stand so you can work flexibly.
Finally, this decision is yours which type of monitor stand you need for your work. At TV Bracket in Singapore, their monitor stands can bear a screen of 17-27'', and support a load of 4.4 to 14lbs*per arm*. Their mounting framework can give you 360-degree rotation and gives you 180-degree swivel. TV brackets have trained professionals and they can customize your monitor stand better than you can. It looks easy to customize your monitor stand but it's difficult. TV brackets have years of experience in this field and it better to take their help and customize your monitor according to your need.