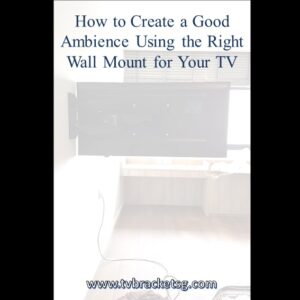 Having a delightful milieu in your home can affect your social, physical, and even mental health. The ancient Chinese philosophy of Feng Shui describes how energy balance and harmony can be achieved through proper arrangement and placement of objects. Observing this belief and incorporating this system in the arrangement and décor of your home promotes good health, well-being, and prosperity of the individuals in the home. So, generally, every home is expected to ooze the right and pleasant aura and this might be influenced by proper placement of the wall mount of your TV.
When deciding to mount your TV on a wall bracket, there are things you should consider before doing so.
Things to Consider Before Mounting Your TV on a Wall
Mounting a TV on a wall can be very aesthetically pleasing and soothing. But, before you decide to do this, ask yourself these questions.
a)    Is my wall strong enough to carry the TV?
This is the most important thing to consider. The strength of your wall will determine if it will be able to hold up your TV or not. You have to choose a location where studs and drills will not damage the wall or reduce the bearing capacity of the wall. If not, the TV will fall and this will cause huge damage to the TV, causing a waste of money.
b)    Where do I want to hang my TV?
The location and angle where the TV will be mounted will determine what type of wall mount will be required. If you want a bedroom or fireplace TV, the swivel or articulating is best. Otherwise, a normal flat-mount is required.
c)    Do I have the required skills to mount a TV on a wall?
Mounting a TV on a wall bracket can seem like a simple task but requires much more skills involved. You require a professional company to do the installment of you do not have the skills to do so. At the TV bracket in Singapore, we offer the best installment services and guarantee 100% satisfaction.
d)    Where are the ports located on your TV?
If the ports are located at the back of your TV, you will require a TV bracket that can be tilted outward (full motion), otherwise, you make use of a bracket that is fixed or static.
e)    How large is the space I want to hang my TV?
You also have to consider what space is available for your TV. This would be influenced by the size of your TV. If your TV is large, larger space on your wall would be required.
Types of Wall Mount or Bracket
Most modern televisions are created with the mechanism behind it to hang or mount it on a wall mount or bracket. There are three main types of TV brackets and these are made based on the range of motion they offer when being used.
a)    The Flat mount or Low profile wall bracket:
This is the cheapest and most popular wall bracket available. It is simplest to install and requires fewer techniques during the installment process. Although it can be installed by an inexperienced person, it is very advisable to employ a professional company to do so. TV bracket in Singapore offers this type of wall bracket and installation services at affordable prices. This type of wall bracket is not adjustable and once it is hung or fixed on the wall it cannot be tilted to another direction.
Pros:
It is affordable.
It requires less expertise to install.
Cons:
Once it is fixed it cannot be adjusted.
They don't tilt which can make switching of cables behind it difficult.
b)    The tilting or swivel wall bracket:
This type of wall bracket is more expensive than the flat-mount bracket. They are easy to install and also don't require expertise. They let you adjust your TV upward and downward (vertically). This is done in other to provide optimal viewing experience and to adjust the TV away from reflections of the sunshine. Some models are adjustable and allow you to change your tilting angle from vertical to side to side. You can get this type of wall bracket from us at the TV bracket in Singapore and we also offer installation services.
Pros:
It is easy to install.
It is adjustable.
It is less expensive.
Installments of cables are made easier.
Cons:
It cannot be tilted from side to side (except tilting angle model is adjusted).
This type of mount offers a wide range of motion (vertically and horizontally) compared to the swivel TV bracket. This type of bracket allows you to swivel your TV from side to side and upward –downward. It gives you a better viewership experience. It comes with a foldable arm behind it which allows you to close your TV when you are not using it. Although it is the most expensive TV bracket, it is very sophisticated.
Pros:
It offers a wide range of motion.
It has a very sophisticated aesthetical appearance.
Cons:
It is quite expensive.
It requires professional installment expertise.
Now that you have considered the things involved in mounting a TV on a wall and you know the various types of wall mount, you can go ahead to pick the right wall mount that will help the perfect ambience for your wall.
Creating a Great Ambience Using the Right Wall Mount in your Home
Ensure that your living space is always tidy and neat.
Make sure that you have all the requirements to take into thoughts before mounting a TV on a wall.
Find the best décor that suits your living space.
Study and incorporate Feng Shui in your living space arrangement.
Conclusion
All these can be made easier if you have the right company to provide the TV bracket and installation services. At TVbracketSG, we offer 100% satisfaction. Our brackets are durable and efficient. For installment, we have trained professionals that carry out the services and our customer services are very reliable. We've been in the business for over six years and we know how to maneuver problems we may encounter during installation.
So, what's causing the delay?  Contact us at TVbracketSG for more information.