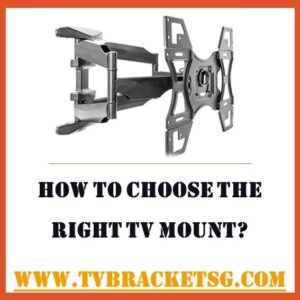 Getting and mounting a TV is a great idea but picking just the right mount for your display is the first step, which turns out to be surprisingly easy. Before picking or selecting the right mount for your display, you have to put so many factors into consideration.
One of the best things about televisions' latest design is that they are flat enough to get mounted on the wall easily. As we already know, Mounting a TV will save a lot of space both in your living room or bedroom.
It is important to note that mounts come in different sizes, designs, and specifications, depending on what you want. We have common mounting brackets for your display like the fixed TV wall mounts, the tilting mount brackets, full-motion single-arm brackets, full-motion double arm brackets, and so many more. Take a look at our collections for more details about our products.
Choosing the right mount for your display is quite easy only if you are ready to go through the following:
Verify your display specifications
Selecting a wall mount that is very compatible with the exact specifications of your television is very important. Most mounts are designed to fit displays of a specific weight and size. For example, your wall mount might only be designed to hold a 32-inch display, and if you try attaching a 50-inch display, there is a 99% probability that your expensive TV will come crashing down. So, as professionals, we always advise our customers to be sure about their television specifications and on the wall mount they want. This way, they will purchase only the one that can support their display's height and weight.
Want Swivel or not?
The next thing to put into consideration is to decide on whether you want your wall mount to rotate or just remain stationary. However, most wall mounts are designed to perform one of these functions. It is nice to have your TV display just sit in the wall and in one position, but a swivel mount may also be good for some situations, especially when you want the display to be pointed in another direction. So, deciding on whether you a swivel mount or a stationary mount is entirely up to your preference.
Mount with arm or not
This is another decision you have to take when deciding on the right TV mount to go for. There are wall mounts that hang the television close to the wall like a frame, while other mounts are designed with an arm that keeps the display out just a few inches for the wall. Both wall mounts designs are awesome, but you have to decide which of these two options will suit you best.
Affordability 
It's ok to want a mount with an arm or a mount that is designed to swivel, but before you jump in making your decision, take some seconds and think about your budget. It's ok to think that the cheap wall mount will do the job perfectly in holding up your TV display.
But at the same time, are you willing to take that chance of letting that quality hold up your expensive television? Before making your conclusion, be sure that you don't overpay for a mount and, at the same time, avoid cheap materials.
FAQs
Where Do I Choose the Right TV Mount in Singapore? There is no other place in Singapore to best TV mount apart from www.tvbracketsg.com. They offer the best products and services to the delight of buyers.  They offer affordable services and products, quality after-sale services, top-quality products, and many more.
Is TV Mount costly? Depending on the seller and model you're buying, the prices of TV mounts in Singapore are typically modest. If you choose www.tvbracketsg.com, you can be sure that you won't have to break the bank to get the best TV mount.  
Final note
While making the decision to get just the right mount for your TV, you can also put into consideration buying some other device to hide all cables that may be popping out from and to the TV. Having made your decision, you can simply reach out to us to get the ideal wall mount for your display.