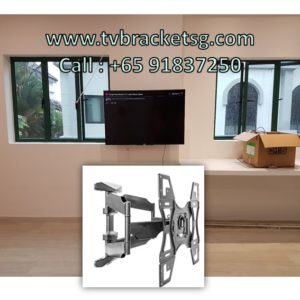 As there are new designs coming around for TVs, you can also find the same trend for TV brackets. A TV bracket in Singapore has become an essential part of every household. If you have not got hands on a TV bracket then, it is time to have one for your flat screen TV.
Before that, you must know how you can choose the right design for TV brackets. So, let's move on to points that you have to keep in mind while heading the market to buy a TV bracket.
Size
In the first place, you have to think about the size of your TV bracket, which entirely depends on the size of your TV. The TV bracket needs to be acquiescent to VESA (Video Electronics Standard Association) mounting interface, which also known as Flat Display Mounting Interface (FDMI). This interface makes sure that you would not face any compatibility issue. On the other hand, the bracket has to be strong, deep, and long enough to secure your TV on the wall.
Height
Secondly, you have to decide the height where you want to place your TV at. It is something crucial as it decides your viewing angle. Place a TV bracket keeping in mind the location of windows as you would not be able to see a thing on your TV during the sunlight. You have to select a good viewing angle depending on the seating position of viewers.
Price
Lastly, the right design of a TV bracket will come at a price. TV brackets are available in every price and cheap ones will do the work for you like other TV mounts. Go for it if you are willing to take chance with your expensive TV set. So, you have to decide on the price.
Look for a TV bracket with a decent price and make sure not to overpay for it but at the same time, do not go for cheap materials.
Now, you are all set to buy a TV bracket for your modern TV. On the other hand, do not forget to hide wires and other cables coming to and from the TV. These wires will be awfully noticeable after your TV mounts up on to the wall. If facing problems, call our professionals that will help you at each and every step while mounting your TV securely on the wall.