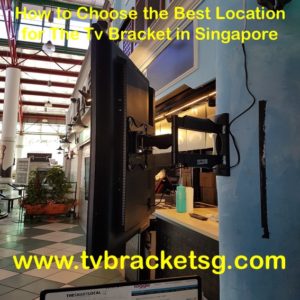 Picking the best spot to place your TV bracket is not as simple as it sounds. There are six different TV brackets in Singapore and since they are different shapes and sizes, this could be a determinant of where to place our TV mount. Placing your TV on the wall can create a lot of space for you with a nice angle that gives your home a dash of sophistication if properly mounted or place. The compact style of TV bracket in Singapore gives you that smart home feature. It is also of lightweight and convenient to use and install in your home, this made it one of the most sort after TV mount. Choosing the right place for your TV mount is not a decision to be taken with levity, this decision is solely on the type of TV mount you choose to check out the six types of TV brackets in Singapore:
Ultra-Thin
This type is very flat in nature and they place your TV really close to the wall, this is a clear difference between it and the other TV mount types.
This TV is stationary in nature that is it cannot be moved or although it is can be tilted facing down slightly.Very good if you prefer your TV mounted really high on the wall.
Articulating
Also called cantilever TV mount, it is made with an arm that is retractable thereby allowing free movement and positioning anyhow you want it.
Swivel
This is also similar to a stationary type of TV mount but it can be tilted horizontally with a better range of swiveling if compared with articulating.
Low Profile
These are called the stationary or fixed TV mounts, cannot be tiled or adjusted once it has been mounted.
Under-Cabinet
A better option for people with little space areas, this type of TV mount can be folded, flipped or even hidden although it is a good option for flat screen TV.
When it comes to buying and installing your TV mount in Singapore, TVBracketSG got you covered. A quality product is assured as well as installation, yes, you heard that right! At TVBracketSG, this company not only sell good quality TV brackets but they also go as far as helping you with the installation of the TV mount purchased from them. This is carried out by their professional installers so you have no worries about if your TV bracket is properly installed because exceptional and quality service is assured!