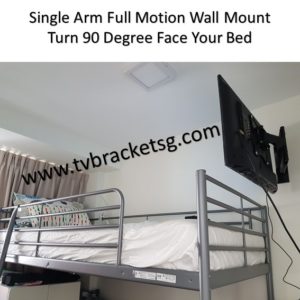 With the new generation of the flat screen taking Singapore like a storm, and not only in Singapore but the rest of the world, you'd probably be wondering how to fix them in the right position in the house. One great thing about these TVs is that they are flat enough to be mounted easily on the wall and at TVBracketSG, we'll show you how exactly to choose the best wall mount for your TV.
Your TV specifications matters
Do not just blindly shopping for the TV wall mounts. First of all, get to know your TVs' specifications. Most of the wall mounts that you will find in the Singapore market are designed to fit the TV of a specific size and design not forgetting weight.
For example, assuming that your TV is a 40-inch in size and you try out a mount that is designed for a 65-inch, there are good chances that your expensive TV will come tumbling on the floor. Before shopping check the TV specifications, it is important.
Check the Swivel wall mount
Again, important consideration to make, before buying the Wall Mount TV Bracket in Singapore, you should decide whether or not you want your wall mount to swivel. In most cases, the wall mount that are already in the market, can perform these two functions, therefore, it is an added advantage.
Whereas having a TV fixed on one location without moving seems nice, having a TV that tilts in different directions can be good especially at an event, like a social gathering.
Do you want your mount to have an arm?
It is also good to decide early on the design of your wall mount. There are certain wall mounts in Singapore that hang the TV close to the wall such that the TV resembles a picture frame.
Some other wall mounts have an arm that keep the TV out with a like a few inches from the surface of the wall. Between the two, which would you like? It is for your decide.
Consider your budget
Well, it may be true that a cheap wall mount will do most of the job done by some high quality mounts, but is that what you really want? Well, are you willing to go back to the market every now and then? Or rather, would you want your expensive TV to be held by a cheap wall mount? It is not that we are discrediting the cheap wall mounts, after all, it is your budget, but going for some high quality wall mount might save you a lot.
These are the important consideration that you need to make before going to the market. More to that, consider buying tubing or some other devices to hide the wires (if any) coming from the DVDs or game consoles. This way, your house will look classy.  You may contact our professional TV bracket installer in Singapore for more information.