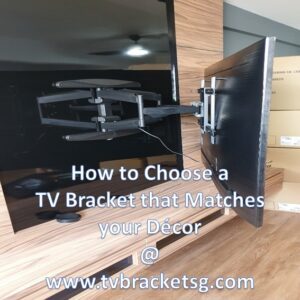 Having a flat-screen TV set helps bring out the minimalist vibe in a household. It also gives the idea that every accessory or decoration in the house must match or contrast accordingly. When choosing appliances or fixtures, it also matters whether they look fit for the overall ambience. It also means that there is a crucial choice between buying a prefabricated TV bracket and building your own. Either way, here are some tips on choosing a TV bracket in Singapore that matches your decorations.
Assess the Room Ambience
By assessing a room's ambience, it helps you determine whether your TV bracket of choice is a good fit. You may consider checking the vibe in order to help you with the buying decision. For example, in a classic minimalist setting, your TV bracket needs to be sturdy but lightweight and slim. In other words, it should not make the TV set stick out too much. But if your TV bracket is sturdy and thick, it can ruin the minimalist setup. Even though the TV bracket is rarely noticed whenever the family watches movies together, it still affects the whole setup.
Having the appropriate viewing angles is also important in choosing the right TV bracket in Singapore. It is highly recommended to once again check the ambience for the right type of wall mount. A tilting or swiveling TV bracket is good if the space looks small and/or cluttered. Meanwhile, a non-tilting TV bracket is perfect in a minimalist environment. Also, you may need to consider whether your TV set produces glare in certain setups. Usually, in some flat screens, there is still a possibility that pictures fade when one watches from an angle. To maximize the viewing experience, some people recommend using tilting TV brackets. However, if your TV set does not produce glare, even a flat TV bracket is enough.
Check Whether the TV Set Complements the TV Bracket
Often, the "complement" definition here is whether a TV bracket can hold up a TV set well. That is where you need to check the specifications of both TV set and bracket. If it can support a TV set up to a certain weight, you need to check its dimensions next. Are the materials and the measurements small enough to hold up as big a TV set as possible? The rule of thumb here is to make the TV bracket in Singapore as inconspicuous as possible. It is merely a fixture and not an appliance. However, sometimes it can't be helped if some TV brackets are a bit thick. They usually match TV sets that have huge dimensions and weight.
You can also check which TV bracket to buy depending on how often you access your TV ports. It may require dismantling your TV set from time to time, which may be cumbersome. In that case you may need to purchase a tilting or a full-motion TV bracket. However, if you rarely access your TV ports such as by using an HDMI cable, use a non-tilting TV bracket.
Check Whether the Wall is Sturdy and Safe
There are decorations near or along the wall, as well as electrical wirings behind the wall. It is unwise to simply find a good space to mount a TV bracket without damaging either. Thus, while preparing to install a TV set, choosing the right TV bracket in Singapore is necessary. Use stud finders and proper tools if necessary. Boring through the wall is an irreversible process and can ruin the room ambience. It can also ruin electrical wiring if tools are not used properly. Moreover, drilling aimlessly can affect your house's structural integrity as well. Therefore, having the right tools and assessments is important to ensure that your TV bracket is installed well.
Book Our Services and Worry Not About Your Setup
It takes a lot of time and effort to deliberate whether you would select a certain TV bracket. There are different options that might not be suitable for your house. You spent a lot of money before you realized that it was an expensive mistake. Before you decide, allow us to be introduced to you.
We are a company that sells and installs quality TV brackets in Singapore for an affordable price. Yes, you heard it right. If you buy a TV bracket from us, you can also have it installed. While the installation incurs an additional fee that is computed into the total cost, consultations are free of charge. Before you buy a TV bracket from us, consult us about which TV bracket would best fit for your room.
You can trust our services as we are a trusted company with more than 6 years of operation. Call or message us at our website and you can also find feedback there from our customers.