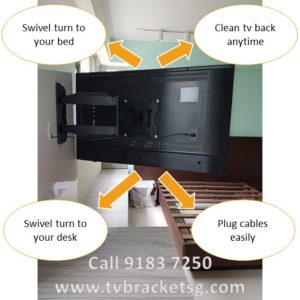 With such well-furnished and stylish homes in Singapore, investing in a TV wall mount is a smart choice. For a lot of us, this might seem a bit daunting because of the entire process of mounting. While for some who know the right way, it might be the job for just an hour, it might leave others frustrated. To save you from the pain of being confused between brackets, we offer you a short guide to provide you with a hassle-free TV mount bracket buying experience.
Here are a few things that should be kept in mind:
Buy a sturdy and good quality TV bracket in Singapore. Buying a cheap TV bracket might land you up in trouble in the future as it might not be strong enough to hold your TV.
Plan ahead by knowing which type of TV bracket suits your TV. Ensure that the TV bracket fits into the feel of your home; else it might look out of place.
There are various types of TV brackets available depending on their rotating capacity. Some of them are fixed and cannot be moved like the low-profile TV bracket, while others can be bent in different ways to suit your comfort level. They also vary in prices. Depending on your requirement and budget, choose a type first. There are also some customized mounts that are available these days which might be perfect for your indoor space, so keep your options open.
All types of TV brackets do not suit all TV models. Before going to buy a TV bracket, check if it will be compatible with your TV model.
Buying a TV wall mount is not that simple. You have to check whether your wall has the capability to endure the weight of the bracket. If you have a drywall, this should not be a problem. But having a wall made of plaster or any other surface might need you to have some extra tools which can hold your TV bracket in place.
Try to not get swayed by the variety of TV brackets present in the market. This will save you both money and time. A lot of people end up buying wall mounts that are expensive and come with various features, but those features never come in actual use.
These are the preliminary steps and guidelines to be followed while going to buy a TV bracket. We hope that this article was comprehensive and useful for you!