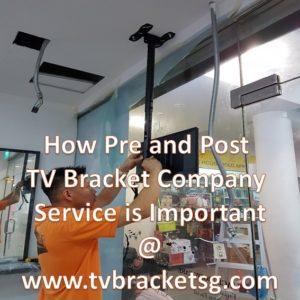 Imagine you have a new television and you want to wall mount it but you do not know where to start. It's difficult, right? You do not know what would be the suitable type of wall mount for you and your television, you do not know how each Tv wall mount works, you do not know the perfect place where you can put your Tv, and etc. That's why before you purchase a new television, you need to consult a TV bracket company like TV Bracket in Singapore which can help you in everything related to your TV – from the products you will use to services that are needed to be done.
For some, consulting a TV bracket company service before and after buying and wall mounting the television is not an important thing. But the real thing is, it is important especially for your television. To generally manage everything about the television and to know its true condition.
Why Hiring a TV Bracket Company is Important
Nowadays, wall mounting a television is important. It does not just save you extra flooring space but it also gives additional design to your house. And in Singapore, one of the most popular and trusted TV bracket company is the TV Bracket Singapore. If you are not sure of how you will start the process, then TV Bracket Singapore will surely help you. With hiring this company, you will not have doubts about the process of installation.
If you are still undecided where to place your television, then TV Bracket Singapore is willing to help you decide on which part of the wall would be the best spot to hang your TV.
Hiring a TV bracket company to wall mount the television in your house means they will install it correctly and properly. With years of experience in this field, the professionals of TV Bracket Singapore guarantees that every work they've done is proper and just.
If you will do the installation on your own, without much knowledge on its process and ways, then hiring such wires will be quite difficult for you. But with TV Bracket Singapore, you cannot see even a single wire because of its neat process.
Last and the most important one is TV bracket company service will surely give you such recommendations about your TV, the dos and don'ts, etc.
Why Choose TVBracketSG Singapore?
TVBracketSG is a company who sells TV brackets and other products related to it. They are not simply selling products but each product is made with high-quality components which will surely last for a long time.
If you come up with the decision of changing your old-fashioned television, then you are somehow considering to use a Tv bracket to wall mount your newly bought Tv. Surely, you should not think of wall mounting the television on the fireplace.
TV bracket installation or simply wall mounting is popular to everyone. Why? Simply because it frees additional space where you can use for other purposes. But some people are intimidated by this kind of project. So, how can you safely mount your TV using a TV bracket? Well, TVBracketSG is a company that offers Tv-related services including TV bracket installation – and a lot of people recommends this company plus gained trusted reviews on the internet.
Safety Tips to Mount Your TV through a TV Bracket
Stud Finders are not accurate. Some of you might think that this equipment is really helpful but the real thing is there's a specific way on how to use it correctly and properly so that you will also install your TV brackets correctly. Here are some tips that you can use while mounting your TV on the wall:
Take every step slowly – it is important to calibrate properly your stud finder to be efficient. Make sure that move it slowly from one side to another to carefully read every part of the wall.
If you think that you are doomed and the stud finder is giving you inconsistent results, then you have to take off the covers of a wall plate.
If the stud finder already locate the studs but it does not line up on TV bracket's holes, then simply put or create additional holes on the TV bracket.
If you cannot find any stud where you desire to place your TV bracket, then it's time to use hollow wall anchor – but it is not advisable for such wall mounts like full-motion mounts.
If you are going to use a TV bracket to wall mount your TV, you must hide all the visible cords and wires. So that it will not be prone to any situations that might damage or harm your TV. To achieve this, you can buy a power bridge kit to hide cords when not in use.
Conclusion
The safety tips that are provided and listed above are based on the years of experience of our professionals here at TVBracketSG. Surely, our company will guarantee you that every work we are going to do will end up to a successful and positive result.
With years of experience along with profound knowledge in this industry, we, at TVBracketSG will surely provide you an excellent TV bracket installation as well as the products that will be used to wall mount your televisions. Visit our website and browse our products at www.tvbracketsg.com and you can also try our service to check your televisions in your home.