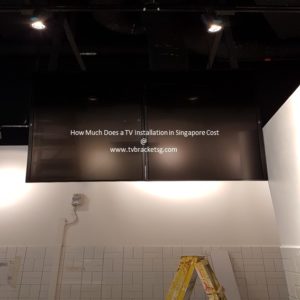 Finding out how much you would have to pay for TV installations in Singapore is not that easy a task. You would have to consider a lot of things before you can compute the overall costing of the entire project. Fortunately, this particular article could provide some ideas as to what those considerations might be and how you can apply them subsequently in order to get the best price for your TV installation.
Here are some of those considerations as follows:
The TV Bracket
If you want to have the best TV installation, the first thing that you have to look for is a TV bracket in Singapore that will fit your needs without difficulty. Finding this particular product is not that easy.
The individual costs for the design of the bracket can definitely affect the pricing of the TV installation. If you feel that you can't afford to buy TV brackets as part of the installation project, fix your budget and go back to the drawing board.
The design of the TV bracket will also determine the exact cost of any installation project that you might want to undergo in the future. This is why you have to make sure that everything will be worth it in terms of Singaporean TV brackets as well as television sets.
The Price
Another thing that you need to consider when installing a television set at home would be the price. There are many available TV mounts and flat screens in Singapore that you can choose from, but the difficulty lies and finding the best product for an affordable price.
A TV bracket in Singapore usually charge the bracket costs from $60.00 and beyond while the TV set can cost you a few hundreds as well. It really depends on the design quality of the brackets and sets that you are considering to buy.
The Size
Flat screen TV's can range in size from 42 inches to about 70 inches. Singaporean TV brackets can also differ in terms of size in order to accommodate the bulk of the machine. You have to make sure that the design and the overall weight and frame of the TV bracket would be able to accommodate your flat screen TV especially if you are going to mount it onto the walls.
The Walls
The different types of walls can also determine the overall price of a TV installation in Singapore. Different wall materials usually cost a lot, especially in Singapore. This is why it has to be factored into the computation whenever you would need to buy and install TV brackets in Singapore as soon as possible.
The Room Design
The room definitely factors in when it comes to the overall cost of installation. How your room looks will determine what kind of TV mount you are going to use.
Are you going to have it fixed onto the wall or something that's more flexible in terms of motion and range? Whenever it is that you choose to use for your room, you have to consider the comfort level that you would have once you decide to watch TV on your own.
You have to think about the strain of watching a television show that would be too elevated for you to look at. Is the wall space big enough to accommodate a large TV set right off the bat? Should you renovate your room just to accommodate your TV set? Additional accommodations also factor into the price of the installation.
The Budget and Labor Costs
As mentioned earlier, you have to think about how much you're willing to spend for this particular project in the house.
It is alright to splurge when it comes to entertainment equipment from time to time. However, if you're going to overspend just to accommodate the large TV set for your room, then you may have to think twice about it. You should allot a specific amount of your own money for TV mount installation.
Aside from this, you also have to consider the labor costs of the project itself. How much are you willing to pay for installing the TV set? Keep in mind that professional TV installations can be quite expensive.
Conclusion
With these major considerations, you will definitely be able to compute the overall price of TV installations in Singapore without difficulty. It can range from a few $100 to thousands, depending on the quality of equipment that you are going to use, plus the labor.
Once you are able to factor in everything along with getting the best TV bracket in Singapore, it will be easier for you to decide how much you would be willing to spend for the project itself. This way, they can give you a discount without difficulty.
If you would like to learn more, go ahead and visit TV Bracket Singapore. You will never regret doing so. The website will provide you with professional personnel that can help you install your TV brackets and TV sets without difficulty.