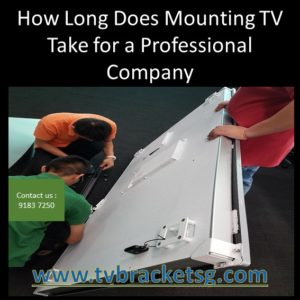 So, have you heard about TV brackets in Singapore? How about mounting a television on the wall? Well, of course, it is quite popular these days. Mounting a television or hanging it on your wall can be done on your own or with a professional TV bracket in Singapore Company like TVBracketSG. If you choose to allow a professional company to handle the TV wall mounting, rest assured that it can be finished within a day – or a couple of hours to be exact. Aside from finishing it as soon as the professionals can, you can guarantee that everything will be done accordingly and properly, and that means that you don't need to worry about a single thing.
Surely, you can wall mount a television can be done on your own, but how sure you are that it is 100% safe just like what professionals do? So, it is better to be safe than sorry – and that means, allowing or letting professionals do this kind of work will help you in many ways, and of course, saves you additional money from spending for repairs in the future.
Things to Know Before You Mount Your TV Bracket in Singapore
Television is already part of everyone's lives – especially those who spend most of their time at their home. And honestly speaking, you want a good-looking television and you truly want comfort when watching on it. Mounting your television is not simply whenever you want to mount it. This matter also needs to take care of properly – and you need to think of it as well as the things you need to consider. However, if you hire a professional company, they will surely help you with the following things:
Before you decide to have your TV mounted on the wall, think first of its pros and cons and how you should avoid the cons to happen. Wall mounting a TV using TV Bracket in Singapore is simply a good idea because it will provide you extra benefits and comfort as well.
Considering the size of your TV is important when choosing the TV Bracket in Singapore to use. Of course, there are many types of TV brackets and not all of it can hold a huge-sized television. Also, remember that having a big-sized television is not always appropriate – because you must think of the distance of your living area to the wall you are about to mount your TV.
Once you already know the size of your television, it is now the time to choose the perfect layout or place to put it. Make sure to choose the best part of the wall as it will have an effect on your viewing experience.
Lastly, think of the height of the wall mounted the TV. Ensure that the height is just the right fit for your viewing requirement for you to have a perfect and enjoyable viewing experience.
Things that are mentioned above are some of the things you need to consider when wall mounting your TV. So, if you want to make everything right and accurate, why not consider hiring a professional company like TVBracketSG?
Why Do You Need to Hire a Professional Company to Wall Mount Your TV?
Of course, if you truly want your TV to be safe, aside from using a high-quality TV Bracket in Singapore, make sure to also hire a professional company that is reliable and have profound knowledge about TV wall mounting like TvBracketSG. Buying a new TV as well as TV bracket are considered as one of the good investments. And, the best way to protect those is to make sure that everything's in line with quality. Placing your newly-bought TV on a durable and quality TV Bracket in Singapore is the best thing you will do to protect your television – of course, hiring a professional company to install it is another thing.
Why Choose TVBracketSG?
With years of experience in this industry, TVBracketSG already proved themselves to be worthy about being a professional company that installs TV Bracket in Singapore. They have gained positive feedbacks, recommendations, and trusts of their clients. Their only mission is to provide a quality service that will last for a long time without any circumstances, issues, and problems in the future.
So, if you want to protect your TV and your TV Bracket in Singapore, look for a professional company that is reliable, trusted, and have a good reputation, consider TVBracketSG to be one of those companies out there. Making the right choice and decision is always the best than doing something on your own without an assurance.