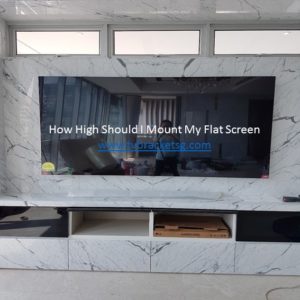 Most people are now discovering the benefits of mounting their flat screens on the wall. Mounting your TV on the wall will help you to save space in your room, creating an organized and neat look to your home.
How high should I mount my flat screen? This is a question that disturbs most people when they buy their flat screens. TV bracket Singapore will help you on how high to mount the TV.
The following information will help you to understand about mounting your flat screen and how high you can mount it.
Mounting
Determining the right height to mount your TV may not be as simple as you may think. You need to understand some aspects of your flat screen like the size, viewing distance, viewing angle, and the eye level height.
The Size Of Your TV
Knowing the size of your TV will help you to understand how high to mount it on the wall. When mounting it on the wall, you are judging from the floor to the middle of the TV. Ensure that it represents a diagonal viewing point. You can use a tape measure to know how high and over the exact centre of the TV screen is.
The Viewing Distance
The viewing distance is based on the size of your TV screen. It should be the perfect distance from where you will be sitting to watch. If you want a TV, you can contact TV bracket Singapore.
The viewing angle is an important aspect to consider before you mount the TV. It should be measured from the viewing point of a person sitting. The eye level is calculated from the sitting angle and not standing point.
Measure the distance to your eyes from the ground to know how high you will be viewing from your sitting point. You may want the TV to be mounted for not more than 30 degrees viewing angle. Most people set it between 10-15 degrees viewing angle.
If you have a 42" TV, it should be mounted about 56 inches above the floor to the centre of the screen. A 55" TV should be 61 inches above the floor to the centre of the screen.
If you are not able to mount your TV right on the wall, you can get TV bracket Singapore for professionals to help you.
For comfortable and clear viewing, mount your flat screen centred at the same height as your eyes when watching. Mounting it too high or too low will lead to discomfort and poor clarity while watching. If your TV is large, you can mount it a few inches above your eye level from the viewing angle.
Look simple but during installation sometimes might meet some issues. WE are professional,so we know how to solve it immediately on the spot.