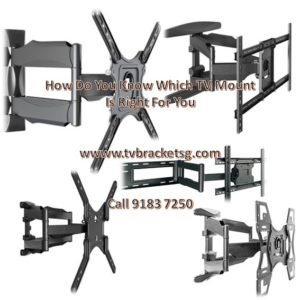 If you're looking for a TV mount or a TV bracket Singapore for your set but do not know where to begin, it would be best for you to read this article right now.  We will give you some tips regarding the considerations that you need to make when buying the right TV mount for your needs.  These are as follows:
The Size
The first thing that you need to consider would be the size of your TV set.  Will you be able to accommodate a big television set or just a small one?  Your TV mount will depend on the size and weight of your TV set.  So it is important that you are able to find out how big your television set would be.
Location
The next thing that you ought to consider would be the location of the TV set.  Will you put it inside your bedroom board the living room?  The answer to this question will determine the type of TV mount that you will get.
The Type
There are about three available TV mounts in the market today.  The differences depend on the type of design that it has.  You have the fixed TV mount, the tilting design and the articulating TV wall mount.  You can put it in the living room and avail the fixed TV wall mount.
This would work especially if you don't plan to move around while watching television.  However, if you feel that you can't sit still while watching television, it would be best free to avail either of the two remaining wall mounts.
These will allow you to adjust the position of the TV into different angles for added comfort.  This way, you will not have to strain your eyes while watching TV anymore.
Design And Structure
The next thing that you ought to consider would be the design and structure of the TV itself.  Will you avail of the touch screen TV or something simpler in terms of navigational capabilities?  By considering this particular feature, you will be able to decide what kind of TV mount you would want to have for your own home.
If you ever decide to buy a touch screen TV, and articulating TV mount can definitely give you much more usability and comfort.  By using this particular TV mount design, you will be able to extend the angles of your TV and not have difficulty switching channels if you want to do it manually.
Conclusion
There are many TV bracket Singapore that you can have online.  You just have to know what you want and where to look for it.
Fortunately, we at https://www.tvbracketsg.com/blog/ can help you deal with this dilemma sooner rather than later.  All you need to do is to make sure that you have the right TV bracket Singapore to scout for and we will be able to help you out as soon as you log on.