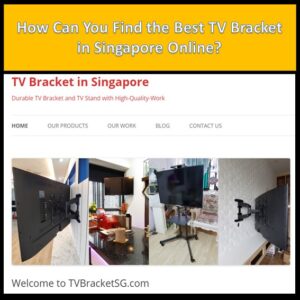 The internet is a good source of information about almost everything. Especially when it comes to shopping, you need the right information for you to make the right decision. When looking to find the best TV bracket for your house, look no further, TV bracket in Singapore has got you covered. They have been around for a long time and they know everything there is to know about TV brackets. Furthermore, they have the right personnel and experience and can provide the best advice and expertise. Their customer care is always there to answer all your queries and concerns at all times. You might be wondering why you need to get a TV bracket.
The Reasons Are Quite Simple:
First, they are simple and elegant and bring a good ambience to your space
They have a sense of modern look and style
They are flexible and any customer can use it with any type of TV
They are easy to carry
They are very affordable as compared to TV stands and wall units
Now that you have acquired your TV bracket, you are probably thinking that it's very easy to install it. It might seem easy with all the information on the internet showing how you can do it yourself or getting a freelancer to help you fix it. What most people or the internet will not tell you is:
The best position for your TV bracket to get the best view angle according to your space.
The best TV bracket for your TV as many TVs have different weights and measurements.
That your warranty will be voided in case you destroy the bracket while trying to fix.
They will not give you advice in case you get to a point where you are stuck.
Freelancers do not have a specific workspace where you can find them for any concerns and most at the time they will find a way of making more money from you.
We understand that getting the best TV brackets is a dispiriting as you don't know who to trust. That is why TV bracket in Singapore is dedicated to providing the best professional and technical expertise in Singapore. Here are the reasons you need professional help when installing your TV bracket.
Affordability
This being the biggest factor, you need to find a company that does not charge extra except for the services they provide. Freelancers will charge you unreasonable charges by making you buy things that you might not even need. Thus buying from a known company gets you to value for money.
Expertise
As much as it seems easy to install your TV bracket on your own, getting the right people with the knowhow assures you quality and efficiency. Nobody wants their wall damaged, more so their expensive televisions which will end up costing you more.
Reliability
A reliable company ensures that they are on time and prompt to assist in service delivery. TV bracket in Singapore has been in the industry for a long time and you can count on them at any time. Customer satisfaction is one of their priorities and through that, they have created trust in many hearts in Singapore and Australia at large.
Guarantees
As products and services go, mishaps often do happen. And therefore, you need a company that provides quality products you can rely on all the time. Again, when it comes to service delivery, you need people with the knowledge and expertise to work in any environment and can adapt well to challenges that arise. This is because there is a big probability that they have come across such a challenge in the past.
Customer service and advice
The truth is, different houses have different spaces and as such different types of televisions. This is the reason you need a company that will understand all your needs and can work around them. Again they are available 24/7 to answer your concerns and enquiries on time.
In conclusion
No one wants to be in the losing team. Furthermore, we all require the best TV brackets the markets have to offer. And with the current advancements happening in technology, TVs are getting better and better by the day. TV bracket in Singapore has been at the forefront in providing products and services that match the advancements meaning that at all time you are receiving only the best. So what are you waiting for, get the best TV brackets at TV brackets in Singapore right now!