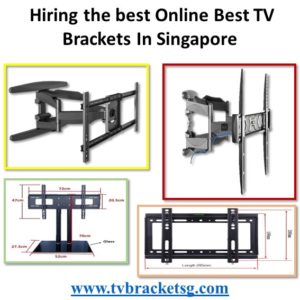 TV brackets have become the need of time and home. It not only highlights the beauty of your living room but also gives a beautiful look to your TV. Even if it is a very simple accessory, there are many factors to consider before buying a TV bracket in Singapore because often, when you think about these particular products, you tend to settle for basic solutions without paying too much attention to the spaces and their own real needs. If you want to buy the best online TV brackets in Singapore then you're in the right place. So, here is how you can hire the TV brackets in Singapore.
TV braket have become a ternd in the new world. Especailly after the pandemic has hit the world the full motion TV is being used for the work from home and everything else. The full motion TV braket means the ability to tilt downwards, to swivel left and right, to move up and down and away from the wall.
If you are buying a TV mount in one of these days the chances are you are going to do that online. But make sure that do proper inspection before buying.
This is an important consideration you have to make before you purchasing wall mount TV bracket in Singapore. It is important to consider you need a wall mount swivel or not. In some cases, these wall mounts can perform both these two functions. This is a plus advantage in this type of wall mounts. Some people love to have a swivel l wall mount for their flat TV.
Having a fixed TV looks great on the other hand a flat screen that can tilt in different directions is also look great and have many advantages. TV bracket Singapore has a complete range of wall mounts with swivel and without swivel, it depends on your choice which type of wall mount you need in a Singapore home.
TV Specifications are Very Importany When You Buy TV Mount
Never blindly shop for TV wall mounts. First, check your TV specifications. Most types of wall mounts that are available in the Singapore market is specially designed to fit for a specified TV specification, designand its size not forgetting the weight.
Always buy wall mounts that are designed to meet the specifications of your TV. If you have 65-inch size TV and you buy a 40-inch TV wall mount it will not fit and create problems. This is important to hire a professional company like TV bracket in Singapore and they will install the right size and specified wall mount for your TV.
TV Bracket SG
We provide high quality Tv mount, TV stand, and mobile stand services. Here are some the things that you will enjoy if you hire us:
Universal tv compatibility– Suitable for 99% of available televisions. Suitable for VESA models: 75x75mm – 400X400mm. Compatible with Samsung, Sony, Panasonic, Thomson, Toshiba, Sharp, LG, Philips, Acer Median.
Swivel with rotating and inclination – It rotates up to 90 ° from left to right so you can choose the most comfortable view. Allows you to tilt up 5 ° or down 15 °, once again choosing the best position.
With folding arms to save space – Easily extends up to 495 mm from the wall to move the TV to the ideal position when needed. Also, it retracts up to 70mm from the wall to save space at home.
Simple installation – A video tutorial is included with your brand new television wall mount which explains the installation.
High quality swivel wall mount for LCD LED and PLASMA 81-140 cm / 32 "-55" TV screens with max weight. For 32 "-55" TVs, max. 31.8 kg, Wall distance adjustment 53 – 499 mm, Rotation adjustment up to 160 °, adjustable vertical inclination: + 8 ° / -5 °
Why Choose Us?
You have plenty of options, so you can select one from our website. Though these were the best online selling TV Brackets in Singapore there are a lot more. If in case you want to know more you can always count on us in the TV Bracket SG where you can better explore the TV brackets before buying. You can get installation options, a better choice, and a lot more professionals advice you need.