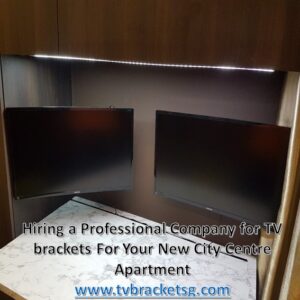 There are several services and installers that would claim to know how to safely and properly mount electronics on the wall. However, it is important for you to make sure that the services you hire are actually certified and trained to attach your TVs to a wall.
You may think that hiring a freelancer is easier and cheaper but you actually increase the risks of problems in the future. This is because there are actual training, registration and certification processes needed before installers can operate. There are several procedures to be done before actually mounting the TV, from making sure the wall can hold and support a TV, choosing the right mount for your appliance, and if you live in an apartment, acquiring the necessary clearances to mount your TV.
TV Bracket in Singapore is a company that is registered and credible in the TV mounting industry. They come highly recommended for having excellent customer service and for their top of the line and high quality products.
There are a lot of great benefits with having your TV mounted. But you would need to make sure you pick the best and most appropriate spot in your apartment before you start mounting. Additionally, TV Bracket in Singapore can guide you in choosing the best equipment for your TV and your wall. There are a lot of TV models out there and only a professional would know what you need exactly for the perfect viewing experience
It's Just Hanging a TV, Why Can't I do it Myself?
TV mounting is essentially just hanging something on the wall, right? Well yes, but there are is a  lot to think about. As mentioned above there are clearances to secure and sometimes even permits depending on how strict your building is.
Aside from saving yourself from the stress and time of trying to figure out complicated assembly instructions, professionals like TV Bracket in Singapore guarantees that your TV will be securely and safely mounted on your wall. Professionals can ensure correct mounting the first time around and gives you the peace of mind.
The Best TV Bracket for You
TV Brackets Singapore has an array of different brackets that allows for different types of viewing angles. Living in apartments can have space constraints and TV brackets is one of the best ways to save space and decorate your apartment in a modern way.
The type of bracket mount or stand that you choose will depend on the use of your TV as well as the space that you have in your apartment or office. Viewing behaviour like where you usually sit to watch TV or if you need to have a movable screen in your office are considerations that TV Brackets in Singapore keeps in mind before suggesting what the best option is for you.
With this said there are specifications that your hired professional needs to look at to make sure that your TV is compatible to the type of stand you want.
Below is a list of different brackets and TV stands TV Brackets in Singapore has available to give you an idea:
This fixed mount is perfect for living room areas or movie dens where you gather in one place to watch TV. As the name suggests this type of mount is permanent and you are pretty much stuck to one viewing angle once installed. With this said it is very reliable and one of the most cost effective options there is.
If fixed mounts are too permanent for your taste, you can opt in with tilting mounts. This type of bracket will allow you to tilt your screen up and down – perfect if you like to stand or sit when you watch TV
This type of TV bracket allows you to pull out your TV and extend it so you can have amazing viewing options in a 180-degree angle. This is perfect for apartments set up with multiple seating places or if you live in a studio and want to have a view of yout TV in every corner of the room
TV Table Stands and Movable TV Stands
TV stands are perfect for office setups where you need a TV or monitor for important presentations. TV Brackets in Singapore offers both table stands and mobile TV stands for your needs.
These are just some of the most popular products and installation services TV Brackets in Singapore has to offer.
If you are not sure on which mount to get, you can always consult them at +65 91837250