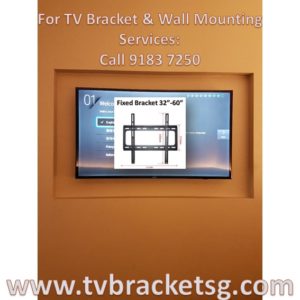 TV bracket Singapore is becoming popular as a result of technological advancement. Without a doubt of mind, technology is growing at a fast phase these days. Quite a lot of the old gadgets we were using before are now becoming old fashioned, obsolete, incompatible and depreciated, as a result of technological development.
The new technology of TVs is one of the products affected by this development. The televisions with picture tube are becoming obsolete due to the latest high definition technology such as the LCD TVs.
The fact that you have a better view of the programme you are watching, with a minimum amount of space is a great thing about these LCD TVs. You can mount your LCD on the wall to save space, since it is flat. These LCD TVs are long-lasting and lighter than the olden day's televisions.
You will use TV bracket Singapore to mount your LCD TV on the wall for better viewing. A lot of those TV brackets are sometimes added as part of your TV package, while you have to buy for some TV models. TV wall brackets are easy to install by you or call TVBracketSG for the installation.
In this case, it is vital for you to choose the right TV bracket Singapore. You will be putting your LCD television at risk if you mistakenly buy a TV wall bracket that cannot support the weight of your television. But we at TVBracketSG are available to help you choose the right and long-lasting TV bracket that will not break over time.
With our more than 12 years experience in the industry, our dedicated engineers and wall mount installers will do the wall mounting for you at a reasonable amount.
We will do everything within our ability to choose the right and good quality TV bracket to install your television because we understand the risks involved when inferior and cheap products are used.
Multi-purpose or Free Size TV Bracket Singapore
These are TV brackets Singapore that can be used for different purposes. In other words, these brackets are used not only for LCD televisions. These wall brackets are very effective as they will adjust automatically to the size of your LCD television. These TV brackets in Singapore will surely carry the weight of your LCD TV because they are used in several ways.  The best thing is to opt for this type of wall bracket for your TV in order to avoid durability issues.
Get the best supply and installation of your TV bracket Singapore from TVBracketSG. We are the best supplier of TV floor stands, tilting brackets, fixed brackets, ceiling mounts, TV table stands, TV mobile stands, full motion double arm mounts, full motion single arm mounts, gas strut desktop/monitor mounts, and gas strut TV mounts in Singapore.
What are you looking for? Do you need installation service or TV brackets or other items? Get more information about our services at https://www.tvbracketsg.com/product-and-services and if you need clarifications on our products and services, don't hesitate to contact is at https://www.tvbracketsg.com/contact-us/ today! A try will surely convince you!