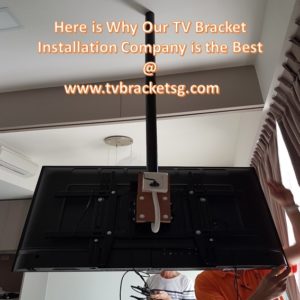 There are many TV bracket installation companies you can find online that deals with TV bracket in Singapore. Using TV brackets in your home is a convenient way to put up your TV for better viewing experience and you cannot deny the fact that it has additional benefits such as adding design and style to your home and gives you extra space because you don't need a table to place in the floor space.
Almost every Singaporeans have positive feedback about TV bracket in Singapore that's why it is popular and trendy as time goes by. Though there are a lot of TV bracket installation companies across Singapore, TVBracketSG is one of the most reliable and trusted company. What makes them trusted and reliable? Simply because of the quality of the products they offer and the high quality of service they provide to their customers.
Keep reading the article below to know why TVBracketSG, our TV bracket installation company is the best and popular in TV bracket in Singapore services as well as supplies.
Numerous Stand Features of TV Mount
Having standard features is another thing that is good about TV bracket in Singapore. Each of our TV bracket and wall mounts comes with modifiable tilt, considerable warranty, and sturdy cover. Furthermore, we also have the thinnest mounts that are perfectly fit and suitable for spaces that usually tight.
High-Quality & Professional TV Wall Brackets
Mounting your TV on the wall requires several steps that you need to follow carefully, right equipment and tools that you must have in order to wall-mount it successfully and safely, and professionalism that requires adequate knowledge in what you are doing. TV brackets come in different sizes as your TV does, so choosing the perfect bracket for your television is important, so it will hold your television perfectly. If you will allow TVBracketSG to handle the entire installation of your TV, rest assured that there would be no serious problem while installing your TV bracket in Singapore.
The Best Television Mount
Wall mounting televisions using TV bracket in Singapore is getting more popular nowadays. Most people are not using TV brackets instead of using TV stands to put their TVs. Mount your televisions on the wall using our high-quality TV brackets to secure safety and save some space in your floor area.
With our years of experience in providing high-quality supplies as well as professional services, we have gained a lot of customer in Singapore and we have also earned their trust through our products. If you want to install your TV bracket in Singapore with us using our exceptional TV brackets, head on to www.tvbracketsg.com.
Why Choose Our TV Bracket Installation Company – TVBracketSG
Choosing to wall mount your television can give you many benefits but the first thing you need to do is to find a reliable company that provides high-quality products and services. We, at TVBracketSG, can guarantee our customers that choosing us won't make you feel any regrets in the future. Here are some of the reasons why TVBracketSG is the best.
Aside from providing high-quality TV bracket in Singapore, all products and services from TVBracketSG come with reasonable prices.
Each of our product reduces glare from windows and lights.
Using a TV bracket in Singapore improves the safety of your television and people in your house.
Wall mounting your TV gives an additional appeal to your home.
With our professional installers, installing a TV bracket is easy and simple.
TV bracket in Singapore provides everyone additional space.
Our Principles is what Makes us Moving Forward and Be the Best that We Can Be
Professionalism – we are not just professional but we also give professional advice.
Products – since our products are made from high-quality materials, they're sturdy and durable.
PEOPLE – each people in our team have years of experience in this field, which means they will deliver quality work.
PRICE – our prices are as good as our products.
Installing TV brackets or wall mounting your television can be done on your own, but there are many consequences next to it. But if you are going to ask experts and professionals, like TVBracketSG to install your TV brackets, you can assure the safety of your television and everything.
If you are not yet convinced of what everything is provided here, you can visit our website www.tvbracketsg.com to know more about our company, our products, how we work, testimonials, and feedbacks of our customers. In our website, you will see a video of our professional who is installing a TV bracket in Singapore, doing the best that he could to meet the requirements of our clients.