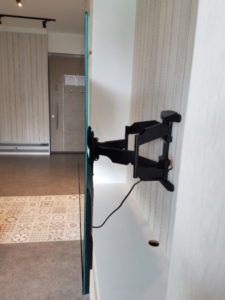 TV mounting is quite essential if you want to have a wonderful viewing experience from any angle of your home. As you narrow down your selection, think about the essential features of the TV bracket Singapore of your choice.
Continue reading to understand the notable TV brackets in Singapore.
1. Full Motion or Swivel TV Wall Bracket
This is a wall bracket that fits well with most 22"- 55" flat screens, such as LCD and LED plasma flat screens. It comes with heavy gauge steel that holds the screens up to 88 pounds with an assortment VESA compatibility patterns. Full motion or swivel TV bracket in Singapore has a low profile, retracting to only 2.2 inches, which conserves space. On the other hand, it can stretch out to 20 inches from the wall for adjustability.
2. Tilting Brackets
Titling brackets or TV wall mounts are designed to get rid of frustrating screen glare by providing a smooth 15-degree easy tilt choice. This TV mount features an easy three-step setting up guide. Tilting TV wall mount is long-lasting and in compliance with nearly all the VESA mounting patterns and most TVs from 32 to 70 inches screen size.
3. Fixed TV Bracket Singapore
This slim TV wall bracket matches well with a good number of flat screens from 32 inches up to 60 inches in size. Fixed TV bracket is ideal for ultra-thin OLED and LED TVs.  A strong fixed wall mount will hold about 175 pounds of carrying capacity, giving you peace of mind with your mounted television. It has three diverse kinds of TV bracket positions that will allow for the adjustment of the TV height on the wall plate, and its anti-theft locking bar gives additional security.
4. Ceiling Mounts
This type of wall mount is designed to accommodate nearly all the 37" to 60" plasma and LCD flat panel TVs, despite the fact that a number of LED screens can accommodate about 75" for installation.
With an adjustable height choice of 26"-35.4" from the ceiling, ceiling TV mounts are mountable on flat ceilings and vaulted ceilings. Ceiling mount provides not just a forward and backward tilt, but also 360 degrees pan adjustment to accomplish a perfect viewing position from any position in your space.
5. Curved Wall TV Bracket in Singapore
This TV bracket in Singapore is designed to accommodate the modern technology of curved flat screen. This particular TV mount supports TVs ranging from 32" to 70" and up to 99 pounds. Curved wall bracket enlarges up to 18.8 inches from the wall and draws back inside to only 3.3 inches.
Depending on the position you are sitting, tilting adjustability of this TV bracket in Singapore is from  2 to 10 degrees down to decrease glare, and there is rotating voluntarily to the left and right.
Conclusion
If you want a better view of your television from any angle of your room, the right TV bracket Singapore is your best choice. TV Bracket SG is the best supplier of all kinds of universal TV Brackets and also provides TV Mounting services in Singapore and its surrounding areas. Get your TV Brackets, Stands and Mounts in Singapore from TV Bracket SG.
You can also learn more about our TV Mounting Services here.