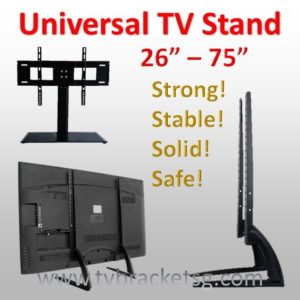 You will be aware of the fact that a TV table stand is very important if you own a television set and want to have a better viewing experience from any of the rooms in your home. The importance of TV table stands cannot be overemphasised , provided that you seek the help of a professional company.
Fortunately, TVBracketSG is available to advice you on your table stand requirements and provide you with quality and second to none service and products.
Are you looking for the best television table stand for your TV in Singapore to boost your home décor? TVBracketSG is the answer. We are a group of experts who supply quality and affordable TV wall mounts, TV mobile stands, TV table stands and lots more in Singapore.
There are many reasons you should get your television table stand and other related needs from TVBracketSG Singapore. Keep reading to learn more
Pricing
Despite the fact that we are not the cheapest when it comes to pricing, we are not the most expensive as well. We offer competitive pricing and custom quotes for all our TV table stands and other products. You will still get quality products and services for our affordable pricing.
You are guaranteed quality and original TV table stands and specialized installation from TVBracketSG. This is because we have a team of qualified installers who understand all about table TV stands. In addition, you can buy different sizes and design of television stands from us.
We are also capable of installing any LCD, LED, or Oled televisions. When we handle your project, you can relax, understanding that all is well as we will take care of all your needs in a professional manner.
Different Types of TV table Stands and Product Line-up
We have different sizes of TV table stands that will fit any size and design of TV in Singapore. On the other hand, we are the best company supplying everything about TV stands in Singapore. As a matter of fact, we are exceptional and no other company can compete with us when it comes to numerous product-lines in Singapore.
Our product line-up include TV mobile stands, TV table stands, TV Brackets, TV wall mounts, TV Floor Stands, Fixed Bracket, Tilting Bracket, Full Motion TV Mount and many more.
If you want to get rid of the challenges and problems of buying original table stands for your TV in Singapore, hire the service of TVBracketSG. We understand various places to place your television to get rid of a sore neck and have the best viewing experience.
Visit https://www.tvbracketsg.com/tv-table-stand/ for additional details about our TV table stands and other services or Call / SMS / Whatsapp : +65 9183 7250. You can also send an email to: enquiry.tvbracketsg@gmail.com
We will help you get quality stands at affordable rate and offer you the specialised installation service you deserve.