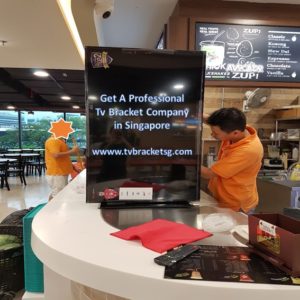 As apartment living in cities continue to grow, so does the demand for space-saving designs and furniture.
Let's be honest, apartments near the central business district can be a tight fit, especially in countries like Singapore. However, they can look and feel spacious with the correct layout, decorations, and furniture.
One of the best ways to save space in your apartment is to keep your bulky items and electronics stacked up. Shelves are perfect for organizing books, decorations, and even small electronics.
Another great way to save space is to have an organized corner for your TV and home theater appliances. TV installation brackets and mounted home theater set-ups are highly popular precisely because of its space-saving and aesthetic benefits.
Aside from this, TV installation can be both ergonomically better and more cost-effective than a bulky TV stand. This is because of the different styles to choose from to best suit your viewing needs.
They can go fixed installations with a permanent viewing angle, or one that allows you to tilt and rotate your screens.
Below is a list of options to consider when deciding on what TV installation design to get for your apartment:
Fixed Installation
Tilting Installation
Tilting and Rotating Installation
Ceiling Installation
Now that you are well aware of the choices you have with installation options for your home theater, let's talk about preparing to install your TV.
Below is a quick checklist to help you in preparing your apartment for the TV bracket installation
Check Your Wall
Most homes and apartments in Singapore have dry wall, however if you want to place your TV on plastered wall, you are going to need more than just the DIY materials that come with your TV brackets. For safe and seamless installation, consider hiring a professional.
Determine What Height is Most Ideal
Making sure your TV is installed in the best height plays a huge role in your viewing experience.
Here are some things to consider when deciding in which height to mount your TV
The distance of the wall from your designated seating
Size of your TV
Optimal viewing angles
Your personal preference
Consider The Weight of Your TV
The size and weight of your TV will determine the type and material of your brackets. Making sure that you purchase the right one that can securely carry the weight of your TV and effectively mount on the wall is extremely important.
There are a lot of TV brackets out there and choosing the right one can be a difficult task. When in doubt, call a professional! TV Bracket In Singapore is an installation service that can help you with all your needs.
Mounting anything on your wall can be incredibly taxing especially if you do not have the tools on hand. Plus, it is even more challenging if you are dealing with installing an appliance with quite a bit of weight to it.
The last thing you want is your TV ripping through your wall or falling off because of miscalculations. This is why finding top quality brackets and hiring a licensed professional is very important.
TV bracket in Singapore is an installation service that employs only skilled professionals. With over six years of experience in the industry, they are able to give you the best advice for your TV installation needs.
Additionally, they have a line of some of the most reliable and affordable TV brackets and other products to help you install your own home theater
Here are some benefits to hiring a licensed and experienced professional to Install your TV
This is their expertise. They know the best products for TV brackets out there for you
You can consult experts on where the best place is to hang your TV. As stated above, making sure you have picked a stable wall to mount your TV on is incredibly important!
They are licensed to operate. This can be especially needed if you live in apartments or condominiums that only accept licensed maintenance or construction work.
Professionals are skilled and have the necessary tools and knowledge to make the installation process seamless
They can give you advice on all the things you need to consider form which installation is best for you to what type of bracket will securely support your TV.
Professional work is often always better than DIY
You don't need to worry about confusing instructions or missing pieces for your brackets.
TV bracket in Singapore is one of the best installation services you can go to seek to help from.  Experienced and trusted TV mounting services can give you the best advice on what type of installation is best for you given your apartment and your viewing preferences.