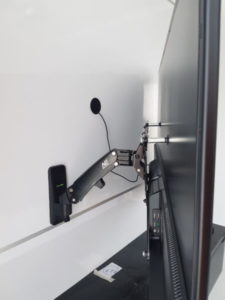 When you want to cover almost all the viewing angles of your television in your living room or entertainment room for the purposes of movie watching, video conferencing, or gaming and real time exercise with your dummies, you need to get a swift moving and strong mount for your television. As a result, for all in Singapore, we bring you the gas strut TV mount. This is a brand new fully articulating and counterbalancing TV mounting that is simple to assemble and fluid movement for easy and quick adjustments.
Furthermore, they are flexible and easy to install on the wall despite the material used to construct the wall. To add on that, they are considerately designed and constructed with ecological interface to bump up your viewing and gaming experience when you are in your living room or entertainment chamber.
Moreover, with the improved turning point that is spring pivot joint, this offers effortless turning points to do away with the grey pictures or the mirage on screen when viewed from a more acute angle and thus a wide range of swivel up to 180o.
To enhance the aesthetic value of your living room, the gas strut mounts that we bring have different designs and colors that are appealing to the eye and thus improve the beauty and look of your place. Just to mention a few, there are some which are constructed from aluminum alloy and finished with a smooth shining surface that has been chromed.  In addition, they also have nice glance and integrated cables that are clean and clutter free. Furthermore, anodized black is also a good TV mount bracket that is also available.
Apart from the above mentioned properties concerning the gas strut TV mount, the following are also some of the best that have not been mentioned;
They have been fixed with durable gas strut cylinder plus conical turning points constructed for swift movements and stabilized operations.
In order that they may minimize space once fixed, they are fitted with single extensions that are compact and retractable in design.
Additionally, some have gravity designed fulcrum to advocate for a static viewing position.
Last but not least, the swiftness and simplicity of these gas strut TV mount allow one to easily and lightly position the television at the desired viewing angle hence luxurious.
In summary, the gas strut TV wall mount in Singapore that we bring to you have all the factors considered to ensure we give you a quality and durable and most of all satisfactory product.