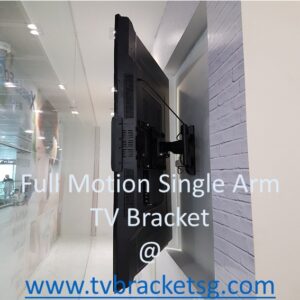 A GOOD SIGHT AT ANY ANGLE
At the end of a workday, nothing beats crashing on your favorite sofa and watching a game with a drink in hand. Today is different though; you'd slightly stretch it out on the bench than use the couch and therein lies your dilemma. The TV is at an impossible angle for your viewing pleasure, and no matter how hard you try, you can't get it to face right.
I can tell you that you don't have to worry about that any longer. You can sit in any corner of your home and watch your team play without inconveniencing yourself. Our full-motion single arm mount is just what you need. Get our full-motion TV mount that offers movements ranging from tilt, swing, panning, and dept and enjoy a multi-dimensional view from the mount's wide range of movement. At TVBracketSG – TV Bracket in Singapore, our single-arm mounts come in two sizes – medium and large. But first, let's discuss some vital fundamentals on why you should for full-motion single arm and see the bigger picture.
Why Full-Motion Single Arm
The full-motion single arm has the same degree of flexibility and mobility as the full-motion double-arm. The single-arm mount is perfect to position a TV in the corner of the room or office space and can also tilt the TV flat panel up or down to get the exact view angle that suits your position.
The full-motion single arm mount is suitable and recommended for home use, although it is lighter but it definitely easier to handle especially for small people.
When choosing to use the full-motion single arm mount, you have decided to either using the medium or the large size. Now, deciding on any of these entirely depends on the dimension of your TV screens.
The Medium size, just for you
The medium size is a flat panel full-motion mount with a distance of 55mm to 499mm from the wall. It fits most 32″-52″ flat panel display and a VESA compliance of 100*100, 200*100, 200*200, 300*200, 300*300, 400*200, 400*300, and 400*400mm. The mount has a swivel of up to 180° dependent on the TV size and tilt of +8°~-5°. This black-colored mount has a load capacity of 70lbs, made with SPCC material, and comes with a powdered paint coating finish.
Key Features:
A sleek and modern look after watching your TV
It is heavy enough to hold up your TV and light for a comfortable handle
Protects your neck from cricks and other discomforts.
Large size, the better
The large mount has a distance of 110mm to 712mm feet from the wall and fits most 40″-70″ flat panel displays. It has a VESA compliance of 200*200, 300*300, 400*200, 400*300, 400*400, 600*400mm; a tilt of -5°/+15°, and a load capacity of 150lbs. The material is SPCC with a surface treatment of powdered paint finish and is black.
Key Features:
Absolute flexibility
Protects your eyes from reflections off the screen
Why Do Buyers Choose TVBracketSG?
At TVBracketSG – The TV Bracket in Singapore, we look forward to helping you meet your mount needs, and what better team to help you than us.
Our team is a group of professionals who understand their clients' needs and fully understand the different wall types. They are aware of the tools they need for them to give you efficient service and go beyond clients' expectations.
Our team has the right professionals that have gained experience and fit to give the necessary professional recommendation and guide you in the choosing process to ensure you choose suitably without regrets.
Our prices are affordable. We offer valuable products and services to our clients and a very reasonable fee.
Conclusion
Whether you are going for the medium-size or the large size, you have first output your TV screen dimension into consideration in order to get a mount that will be useful to you for whatever purpose you intend to use it for. Have any questions or any other enquires, check TVBracketSG as our team is always ready to give you professional advice and recommendation on our products.
You still revel in the beauty and delivery of our Full Motion Double Arm mount, right? That is exactly who we are. Make a decision today to get the best product from this brand that has experience and history.