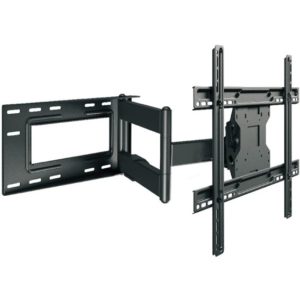 When you want to set your screen in your living room such that it can be adjusted and tilted in order to be viewed from any angle whether on a raised platform or to a person lying on the floor or generally along a vertical and horizontal plane, you need not to think and scratch your head too much. We are bringing you the full motion single arm TV bracket. This is a TV bracket that majestically suspends your television by giving it a tough grip while its joints are well fixed to allow it have a spherical rotating plane.
The consequent points are some of the advantages that accompany the idea of getting full motion single arm TV bracket for suspending your television.
First and foremost, this design of TV bracket is fixed with a pivot that is halfway suspended from the wall to grant a 180 degrees swivel from one side to another. Furthermore, it also allows a positive/negative 20 degrees turn along a plane to provide an ergonomic remedy to the back, the neck or the straining that occur on the eyes.
Additionally the head of the bracket has the VESA mounting pattern that holds the television. As well, the Full motion single arm TV mount bracket in Singapore is easy to fix on the wall without damaging the wall or leaving scratches and cracks on the wall.
On the other hand, it is advisable that before buying these full motion single arm TV bracket, you ensure that the TV you are to mount on the wall is compatible to the bolting pattern on the bracket. This is because this type of TV bracket is designed for specific type of flat screen TV especially those ranging from 22" to 70" and also it has the VESA compatibilities that fit the following ranges; 75×75, 100×100, 200×100 and 200×200, 300×300, 400×400, 600×400.
Additionally, this type of TV bracket is strongly designed to support any kind of a screen with above specifications that weighs up to 150lbs.
Other than giving a good and luxurious television viewing angle, the Full motion single arm TV bracket brings an aesthetic beauty in our homes. Furthermore, it allows us to mount the TV in a hidden armoire from which one can extend it outwards when you want to watch it, also in a corner or a wall that is positioned to an angle of your sitting. The only precaution that one needs to consider is to ensure the cables are long enough to cater for all the TV possible moves.