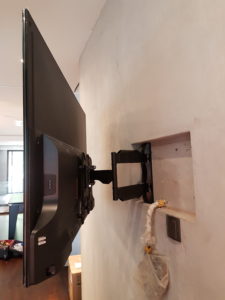 Here is another one of the best TV brackets in Singapore. This is the full motion single arm TV bracket that allows you to position your television any distance from the wall and at the same time any angle along both the horizontal and the vertical planes of the Cartesian plane.
When you are tired of positioning your television on a fixed stand such that it limits you from turning it swiftly and changing the viewing angles but rather makes you tired and leads you to concluding that watching your television is not as interesting as you expected, we bring you this full motion single arm TV bracket.
To give further details about this type of TV bracket, it is a full motion TV mounting bracket with rotation joints that allow it to assume any desired angle for your comfort ability. Additionally, it is simple and easy to install on the wall without damaging the wall with scratches and cracks. Furthermore it is designed with a cable management system to ensure a neat and clean television exhibit.
Moreover, it has a low profile intend thus it gives room for one to position the television up to 2 inches from the wall and an out ward distance of up to 20 inches. However on the angle position views, it has a pivot joint that allows you to turn it around through a 360o turn.
However, for beautiful tidy television display, you can fit different sizes of television sets ranging from 32 inches to 47 inches LCD and LED flat screens.
Besides that, the full motion single arm TV bracket is available in different designs with exemplary decors and outstanding perfections. Some of them are designed and constructed with seamless steel tube and hard plastic polymer and have the surface being treated with powder painting and coating to enhance its exquisiteness. Nevertheless, the single arm full motion TV bracket can bear a load of up to 60lbs and a VESA compliance of up to 400×400.
Concomitantly, the full motion single arm TV brackets are now found in Singapore at a friendly and affordable price. Simply click on the contact us page and be assured to enjoy our services here in Singapore with this type of TV bracket plus many more.