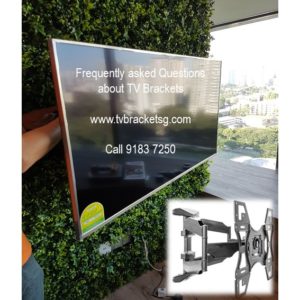 Customers have different questions crossing their mind about the particular product they want to purchase. This article will help in providing answers to some of the things you might be thinking about TV Brackets and NBSP.
How to Choose the Best Location for the TV Bracket in Singapore
Getting to pick the perfect spot to place your TV bracket is not as easy as it sounds. There are six different TV brackets in Singapore, each having various shapes and sizes. The different shapes and sizes could be a determining factor to choose where you will put your TV bracket. Setting your TV Bracket on the wall will make your room to be spacious and creates a nice angle. The compact style of TV Bracket in Singapore ensures smart home features, and it's easy to install at home that's why most people long for it. Choosing the right place should not be addressed with levity; it should be based on the particular TV mount you want. The six types of TV brackets in Singapore include Ultra-Thin, Tilting, Articulating, Swivel, Low Profile and Under-Cabinet.
Why a Full Motion TV Bracket in Singapore Is Always the Best Choice
Nowadays, virtually everyone who has one point in time bought a flat-panel design TV have the full knowledge of the advantages attached to its light weight and thin size. The new technology is advancing at a fast rate. The new designs are more appealing to senses and present a clearer picture.
Going by the name, a full Motion TV is multidimensional in its range of movement. This means you can set your TV allowing it to move freely away or towards the wall. Additionally, you can as well tilt it to whatever view that suits you, and the flat panel can probably be up or down.
The full motion TV Bracket is more expensive than others, and it requires technical assistance in for the installation. However, compared to the benefits and the sheer advantage, you will not at any point regret spending your last penny on the full motion TV.
How to Install a TV Wall Mount?
If you finally replaced your old television, with an advanced flat one, you have made a wise decision as it gives the room a good look. The process of installation can be complicated that's why it's better to get our service. If you are faced with the condition to install it on your own, below are the steps.
Get a TV bracket that's compatible to your TV, lay your TV facing the glass down and locate the 4 holes at the back of your TV and tighten it with a screwdriver.
Secondly, mount your TV to the wall. You can make use of a stud finder, mark the stud with pencil and place the bracket on the wall to get them drilled. More preferably, get an expert and technical service from us. One cent one quality and also service is different if want cheap bracket cheap price but want good service it is difficult to find as well. We provide the best customer service and we not anyhow do business. If you have more questions about the TV brackets in Singapore, get in touch with us today.