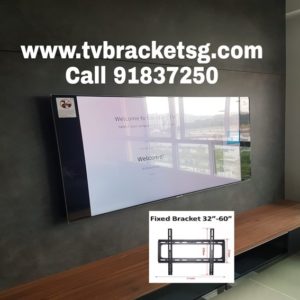 Installing and mounting TV bracket in Singapore and in many parts of the world might look easy and simple but actually working on it might have some challenges and troubles that will occur. You can say it's easy but you cannot figure it out until you do it on your own. As you go through this article, TVBracketSG, a reliable company that works on this field for 6 years and over, will help and give you tips and a piece of advice which you can use in installing and mounting your own tv bracket.
5 Tips When Looking for TV Bracket in Singapore
Before you decide what kind of TV bracket you will use, ask help from TVBracketSG in measuring the area that you will place your television.
You have to study and consider the place where will you put your television before purchasing a TV bracket in Singapore. There are factors that need to be considered when mounting your TV and TVBracketSG can help you deal with it.
Before making any installation or wall mounting, make sure that you already have the right and proper tools with you. Installing TV brackets in Singapore will not make you sweat when you have the proper tools to use.
Another factor that you need to keep an eye with is the distance of your television to its viewers. It is advised to get everyone's opinion before installing it.
Confirm and check the exact measurements before installing your TV. Plus, make sure to screw tightly your TV bracket on the wall.
Installation Tips for TV Bracket in Singapore
It's no surprise why TV bracket in Singapore is very popular and made its way to be a new trend. With its positive reasons and benefits, a lot of people are choosing to mount their television on the walls. The following are the tips you need to consider before installing your TV bracket:
Choose a TV wall mount that can endure and hold the heaviness of your television because we believe that you don't like the idea of breaking your own television.
Be reminded that there is a different kind of TV brackets, so you need to know its features first.
Do not place your TV wall bracket near the sunlight.
Go for the TV bracket that will not leave a mark on your wall. Sooner or later, you will change its position.
Installing a TV bracket can be a do-it-yourself job but it is recommended to ask for professional help so that you can be confident about it after the installation and will have a peace of mind that it will not fall.
The Bottomline
It is always better to ask help from someone who has profound knowledge on a certain thing. We at TVBracketSG can guarantee that we will install your TV bracket accordingly. With our years of experience and being in this industry, we already know what are do's and don'ts. Connect with us at www.tvbracketsg.com