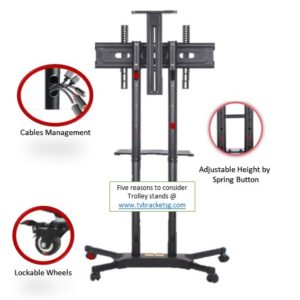 Over the years, television mounting has been widely accepted, mot just in Singapore, but also in other parts of the world and TV bracket Singapore has been on the forefront of this revolution. There are so many reasons for this shift, from the traditional television placement, to mounting. Most people prefer mounting to television stands as this option is safe and cost effective.
Trolley stands are a type of television mount. These mounts are however different from the traditional mounts as they are not mounted on the wall, but they stand on their own with the provision of mounting a television. This means that, it is a stand but fitted with a mount on the top. Tv bracket Singapore has a lot of benefits especially to the users who have a problem with mounting, or where drilling through the walls is not an option.
Reasons Why You Should Use Trolley Stands
Health problems
One of the reasons why you need a trolley stand is a obviously for health reasons. With a trolley stand, you can prevent and reduce muscle problems. Sitting all day causes the leg muscles and the gluteus muscles become inactive, which reduces your ability to sit up straight. Trolley stands are good, they allow the users to alternate between sitting and standing positions which keeps the body very healthy preventing illness.
It is very unnatural to sit in the same place for more than a few hours. Thus, it is very understandable for a 7-8 hours of continuous screen work to cause strain to the body, if unchecked, this cause health problems. Having a trolley mount can be a perfect solution to mounting. With a trolley stand, it means that you can adjust and provide customization to your television how you want it.
Easy customization and positioning
Unlike wall mounting, with a trolley mount, it means you can easily change the design of your mount. You can shift the mount from one position to another. Tv bracket Singapore advices the use of a trolley mount since its mobility makes it very easy to use and to work with. With a trolley mount, aside from the movement, it also means that you can alter the height of the mount, which improves the viewership quality, more than that, if you are using it in your workspace, your sitting posture will be greatly improved.
If you have observed the trends in most workstations, they are very rigid and this has cause reduced work performance for most people. Tv bracket Singapore's range of trolley stands enable you to set up your house in a modern yet a traditional touch of a television placement which brings out the minimalistic design to your home.
Ideal for small space
One of the reasons why Tv bracket Singapore advices on the use of the trolley stands is that they are ideal for small space. The idea of a clutter-free space optimization concept in the house has been on the rise especially given the fact that slim televisions are on the rise in Singapore. With the floor space is limited, and drilling through the walls is not an option, using a trolley mount is the ideal solution.
In the traditional set up, most of the entertainment gadgets are placed horizontally on an entertainment center unit, which means, more spaces needed, however, you can save so much space if you choose a vertical placement, which makes these gadgets even more accessible.
Ease of manipulation
Most people prefer the trolley stands because they can easily be manipulated to act as storage units. However, before purchasing the television trolley stand, consider its dimensions careful. I love the trolley stands because they can be able to hold the television firmly on to the desk, which means that if you have kids running around the house, you can be guaranteed of your electronics safety and also the safety of your kids. With manipulation, it also means that these trolley stands can be placed virtually in any place, in the living space, in the bedrooms, bathrooms and so many other places, in which, aside from acting as a tv mount, they will act as shelves.
Cost effective
Apart from acting as a television stand, they act as shelves which given all the advantages, the trolley stands are very cost effective. Compared to the entertainment units or the traditional mounts, trolley stands are very cheap.
In conclusion, Trolley stands are a great addition to your space customization and optimization especially where you are working with a very small space. Its easy of adjustment means that you will be able to beat so many health problems as you can adjust how you want to view your televisions. If you need a trolley stand, head over to Tv bracket Singapore, for the best, affordable and quality stands.