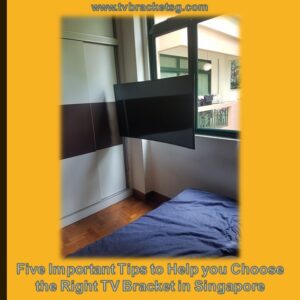 Now that you're considering mounting up a TV in Singapore either to save up space for other things in the room or to make your TV viewing more comfortable, you might need to consider some factors that would help you make the right decision.
The best part about HD TVs is that they are so flat. You can effortlessly mount them on the wall and get an amazing TV experience. Listed below are some easy and simple tips to help you choose the right TV Brackets in Singapore to help you along the way.
Consider the Spec of Your TV
You need to make sure that your chosen TV mount goes perfectly with your TV specifications. Oftentimes, what is advertised as the diagonal size of the TV bracket may not fit squarely the specification of your TV. Most TV brackets have a specific size and weight of TV that they go with, and you need to make sure the one you purchase goes perfectly well with that of your TV.
If you choose a TV bracket that can support a 21-inches TV and then try to fit a 64-inch TV inside it, you can hold no one to account when your TV crashes to the floor. Check your TV spec and then compare it with the spec of the TV bracket before making your choice. Our TV brackets come in different sizes to ensure that you find the right one for your TV at all times.
Do You Want A Swiveling TV Bracket?
There are a couple of questions you will need to answer before you make a decision on the TV bracket that you want. This is one of them. If you choose to have it stationary, then you can go for the table stand or the ceiling mount, which are both safe and quite sturdy.
However, you have to agree that a TV bracket that swivels is something nice to have around; it gives you the opportunity to tilt or turn your TV in any direction, especially when you're having a large gathering. You would love our tilting mount as well as the full-motion mount that comes in variations of a single arm or double arm.
Do you Want your TV Mount with an Arm?
There are some TV brackets that hang the TV super close to the wall and make it fit right in like a picture frame. However, there are other variations that keep the TV some inches away from the wall; you need to decide which you would prefer in your house and then pick.
Out single arm and double arm TV brackets will make a nice addition to your home if you want a mount with an arm.
Consider Your Budget
Of course, we might want to go for the cheapest on the market, but you also have to consider just how good the quality is; you don't want a TV bracket that's going to put your TV at risk. However, it is best to still stick to your budget when making a choice. To make it quite an easy choice for you, we have different prices attached to our varieties of TV brackets. There's definitely something in our collection for you. if you don't want to break the bank because you need to have a TV bracket, then you've got to approach the best seller.
Choose the Right Brand
When making a decision on what to buy, the first thing to consider is the history of the brand that offers the items. After all, the joy of spending money on any item is to enjoy it. Durable items often last and offer rest of mind for users. When deciding to buy a TV bracket, you must choose a manufacturer or brand that offers the best accessories in the industry. Do not compromise durability, quality, and affordability. That is why we are here to offer you the best products at the best price.
Do you want to know where to buy the best TV bracket in Singapore? Visit us and make an order for your chosen bracket. We get you covered. Decide on the type of the TV bracket you what you want to buy today and reach out to us.