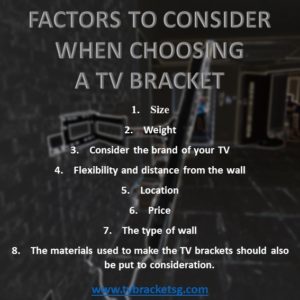 When choosing a TV bracket, it is important to take note of some factors. Get the knowledge of different types of TV brackets in the market because they each can have their pros and cons in relation to the type of TV you want to mount.
Here is what you should put into consideration before buying a TV bracket.
Size
Size can include both the size of your TV and also the size of bracket. TV brackets vary in terms size, design and function. Choose a bracket that can hold the weight of your TV. This is because some brackets are designed to hold only the small TV while others are made to fit larger TV. If you want to mount a 65 inch TV and end up buying a 40 inch TV mount will cause problems, and a possibility of breaking your TV while fitting. Always check your TV specifications for correct choice of wall mount.
Weight
You don't want to buy a TV bracket that cannot hold the weight of your TV. It is important therefore to consider the amount of weight a TV bracket can hold before purchasing it in relation to the type of TV you want to mount.
For instance, a TV bracket holding a small TV (24 inch) is most likely not ideal for a larger TV such as 42 inches TV.
Consider the brand of your TV
Some TV brands have special features that are designed only for that brand. Some have holes purposely placed for TV mounting that will help you make a decision on the type of wall mount you are going to purchase.
Flexibility and distance from the wall
How flexible you want your TV to be mounted will determine the kind of TV bracket you will buy. There are different types of wall mounts and each type has a specific TV bracket. Do you want a TV that hangs on the wall like a photo frame or slightly away from the wall? For example tilting TV bracket cannot be used in flat wall mount TV.
Decide on the specification/ preferences before buying a TV wall bracket so as to buy the one you desire.
Location
Consider the type of wall mounting design depending on your available space for TV mounting. It is good to make sure that the location will be able to accommodate the TV bracket effectively. For instance, if you want to mount your TV in a corner, there are specific wall bracket designed for corner mounting.
Take not of the angle limit of wall brackets. To what extent can they swivel the TV around? And if the angle and direction they turn are as you would like.
Price
TV wall mount come with different designs, size and material that make them vary in terms of cost. For instance, articulating wall mount TV bracket may require special appliances to mount since they are the most flexible wall mount as compared to tilting TV bracket. Their procedure of mounting may also vary from simple to more complex wall mount that would vary in charges for the mounting services. It is good to choose a TV wall mount that is within your budget. However be sure to choose without compromising the quality and durability. You don't want to spend much money on buying that dream TV only to jeopardize it by buying a low quality wall mount that can cause its breakage.
The type of wall
This is an important factor to consider. TV brackets come with accessories such as metal bolts and dry wall anchors to help you install the mount effectively. Where most brackets can be mounted to dry walls, some houses have plaster or masonry wall. These type of walls would need stronger appliances to mount the TV. This would require you to buy special appliances separately.
For walls that are made of plaster board or other lighter materials, mounting a heavy TV bracket can cause damage to your wall.
The materials used to make the TV brackets should also be put to consideration.
The material should be strong and durable enough to hold the TV. This will enable you to save more cash and also spare your wall from repairing time to time.
Metal wall mount are ideal for guaranteed durability as compared to plastic ones. However it is also important to note whether the metal brackets are prone to rusting.
These are some of the key points you need to put into consideration before purchasing a TV wall bracket in Singapore.