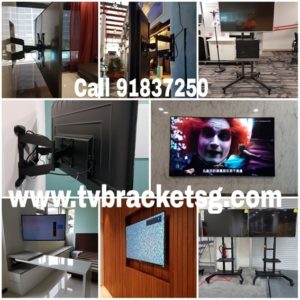 TVs are an essential home commodity. Recently,they come in various shapes and sizes out of which flat screened species are the most preferable ones; the LCDs, LEDs and Plasma TV. The traditional style of placing your TVs on wooden stands is considered to be outdated now. TV brackets have taken over that help save a substantial amount of your lounge space. Moreover, they are much safer, and convenient than the mundane wooden stands. The angles are adjustable, unlike the prior method.
TV brackets in Singapore are one of their kind. We offer a diversity of TV brackets depending on your flat screen dimensions, your television's weight, type of material used in the making of the bracket, the titling offered, and the type of fix according to the customer's wish. This is the reason why TV brackets in Singapore are trusted dearly by our customers.
It is not an easy task to fix a TV bracket. The larger the television screen, the stronger and durable the TV bracket should be. Likewise, the fixings required in the wall should be heavy duty in order to avoid any accidents. First of all the height is measured at which the customer wants its TV bracket to be fixed. Then drilling is done at a certain depth. Holes are prepared for bolts and nuts to ensure the perfect fit. The bracket level is the most crucial point of the installation; it has been perfect. Next step is fixing of the TV bracket to the wall and then the rails are attached to the TV. Finally, the TV is mounted to the wall bracket.
TV brackets in Singapore ensure malfunction-free installation of TV brackets as we believe strongly in our 4P principle.The installation remains in the trusted hands of our 'professionals'; the first P.'Products, people and pricing' form our last 3Ps. Our products are certified safe for household use. They are high resistance, durable and have a high standard in quality. Our team is prompt in their work and is very skilled. They make sure that your TV is safely fitted as quickly as possible so that the customer's house privacy is not intruded in any way. Lastly, the prices are moderate, but slightly towards the higher end. Even our customers believe that our excellent service calls for a little more appreciation than normal.
At TVBracketSG our customers are our number one priority. TV brackets in Singapore ensure a great customer service to its clients, along with high-quality products available at their doorsteps. If you want to install your TVs by professionals, we are here for you. We are a trusted name. We won't let you down.Visit our websiteat https://www.tvbracketsg.com or contact us today at https://www.tvbracketsg.com/contact-us/ or Call / SMS / WhatsApp: +65 9183 7250!