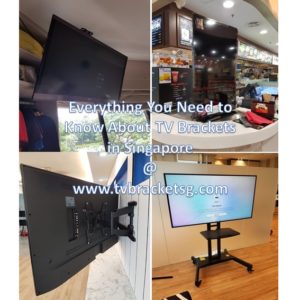 What are TV Brackets
A TV Bracket is quite a simple and innovative thing that can increase the fun of your TV watching experience by many folds. There is no denying the fact that in the modern world a house without a TV feels incomplete and quite empty.
Having a TV in the house makes the overall living experience much more fun. News, TV Shows, Documentaries, Talk Shows, Movies and Cartoons are enjoyed by people belonging to almost every age group and all of and all of this can only be enjoyed with a TV in the house.
So when TVs have become such an essential component of the modern abode it is only natural that people would want to have better televisions with better accessories. That is where TV Brackets come in. TV Brackets mount your TVs on a wall to make it much more visible and prominent and also freeing up space that it occupied before.
Why you should Seek Professional Help
 Modern TVs are getting more and more expensive. They have become a sort of investment. So, while mounting your TV on a wall might seem like a good, without proper professional help, it could end catastrophically.
So, indubitably seeking professional help whilst installing your expensive TV in Singapore is the wise thing to do. There are a lot of things that could go wrong while installing a TV Bracket and mounting your TV on it in Singapore, you must make sure you hire an installation company with a satisfactory record and proper skillset to do all the work.
With our company you are surely guaranteed to expect high levels of Excellency and professionalism and here are some of the reasons why.
Experience
The people you are hiring must know what they are doing. Inexperienced people can damage the wall, damage the TV, damage your property and cost you a lot of money.
Our company understands all of these problems and is here to assure that your property and TV will be treated as our own. We have been in this business for years and have made our name by consistency and quality in our work.
Reliability
Reliability is also one of the things that you should look for in a company. Many low standard companies often don't treat their customers well. They can often leave you hanging when you ask for their assistance. Many times they don't even bother sending you a technician at the agreed-upon time.
Our company strongly believes in premium customer service. With our company, you can expect the highest standards of reliability and trustworthiness. You can even look at our previous customer reviews to satisfy yourself.
Skill
Skill is another factor that you should take into account while deciding upon a company. Unskilled people can cause more harm than benefit. The personnel that works in our company have proved their skill through multiple tests and training. You can also check their records and consistency to assure yourself of any doubts.
Flexibility
The company you hire should be flexible in their approach. They should accept your requirements because after all, from time to time we all need a little special treatment. Sometimes people need our services at short notice or just want to change the time or the date of our visit. Our company has a premium customer service policy so we try to cooperate fully with our customers on these matters.
Guarantees
The good customer friendly companies understand that in a work environment anything can go wrong at any time. So they offer a guarantee in case of any mishap and so does our company. We offer a premium guarantee package on our services and products. You can check the details on our website.
Charges
The charges are also something you should take into account. Many companies out there right now charge unreasonably more than what they should and justify that by lame and made up excuses. Our rates are reasonable and economical. We only charge you for the time and services we provide. With our company's prices and service quality, you are sure to be satisfied and contented.
Final Verdict
When it comes to handling your precious possessions, you shouldn't trust anybody until you are sure that they will take care of your TV like it's their own. In Singapore, many freelancers claim to be professionals and experienced personnel it is up to you to do your research and decide what's best for you.
It is our company's dedication to bring the absolute best to our customers and consider every decision in the best interests of the customer. We guarantee that your experience with us will be one that you will remember.