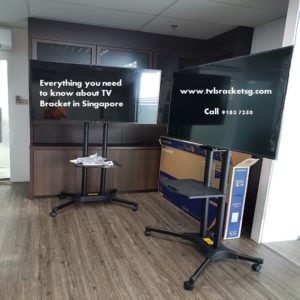 If you thought to decide what make and size of your TV was a daunting task, then wait until you choose to mount it on the wall and have no idea where to start.  If you are looking for a TV Bracket in Singapore, rest assured that you are in good hands.  Here, we will guide you on not only the most suitable TV Bracket, but we will also show you how to mount it with ease.
How Do you find the best TV Bracket in Singapore?
The most important thing to consider when looking for a TV Bracket is how you want it positioned. A Correctly positioned TV will make sure that you enjoy optimal viewership.  You might choose to have it placed at the center or probably want it to be able to rotate so that you can watch it from any room.  Once you identify how you want it positioned, then finding the best TV Bracket will be easier for you.
We have available three types of TV Brackets to choose from
This type of bracket is ideal for a small flat-screen TV and can be mounted in a central fixed position giving your home that stylish look.
A tilted TV bracket can be slightly angled and is, therefore, able to counteract sunlight glare and reflections.  If you love watching TV in bed, then you will enjoy viewing it by mounting it right high on the wall.
The Full Motion TV bracket is perfect for TV's mounted in corners or if you want to watch from an adjacent room as it allows you to tilt the TV to any degree giving you the maximum freedom.
If you are looking for a TV Bracket in Singapore, then we guarantee you quality products that will make you enjoy that favorite series or that favorite game of soccer.  We will guide you towards choosing the best Brackets based on your specific needs.  We will also show how to do a home installation, which is quite simple.
Steps To Consider Before Mounting Your TV
Can your walls hold the weight?
Find out what your wall is made up of.  The weight of your TV and the wall mount can go up to 50 kgs, and though all the screws may have been designed in a way that they can be able to hold that weight, if you are not sure about your wall it would be dangerous for you to mount the TV as it might fall.  If in doubt, it is advisable to consult the experts.  We are a registered, trusted company that has been in existence for more than six years. This experience and the fact that we are not freelancers doing this kind of work without a registered company gives us the confidence to say that we shall offer you the best services and we shall help you solve issues on the spot.
 Can you drill holes into your walls?
Some houses have walls that are difficult to drill holes. In case you encounter such difficulties, please contact us, and we shall offer a solution on the spot.
Are there wires or pipelines nearby?
Before you start drilling, be very sure that you are not drilling into wires to avoid electrocution.
 Would you consider Cord concealing?
A lot of people do not like having wires hanging down walls.  Allow specialists like ourselves help you in concealing the cords, or you can purchase TV code covers to assist you in code concealing.
What is the ideal height?
For optimal TV viewing, have your TV screen at least 40 inches above the ground.  Having the correct height will prevent you from either having to look too up or too down when watching.
Final Thoughts
Once you have checked all of the above, then it is time for you to do the installation.  Although the installation manual is quite easy to follow, you might encounter technical issues that you may not be able to rectify without a technician.  Being professionals in this field, we will solve your problems on the spot. If you are looking for a TV Bracket in Singapore, then click on https://www.tvbracketsg.com/blog and we shall offer you the best options.  We pride ourselves in providing you quality products, and we also make your life easier by providing the best service on TV bracket installation.