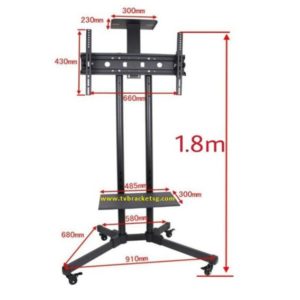 TV is an essential component in every home, not only because of the functions it serves but also because of the beauty it adds to your home. That is why you don't just have to consider your TV; you must also consider its accessories. There are many ways you can install a TV bracket in Singapore. One of them is to fix it to the wall or the roof. Another option is to place it on a stand. While many people prefer to mount their TVs on the wall, the mobile stand's invention is changing people's perspective. With a mobile stand, you can easily change your TV position and move it from one room to another. But there is more to a mobile TV stand than just that it is easily movable. So, what are the reasons to consider a mobile TV stand?
Save Your Wall from Holes
With a mobile TV stand, you don't need to drill holes in your walls or ceiling. Especially if you are a person who loves changing your TV position, imagine how much damage you would have done to your building if you are to mount on the wall.
Mobility
Mobile TV stands are usually very portable, and they come with rollers. So moving it from one room to another is very easy. With a mobile TV stand, you don't have to force yourself to watch TV in a particular location; the TV can always come to you.
Flexibility
Mobile TV stands are also adjustable. You can adjust the height to your preferred height. You can also change the viewing angle. Therefore, you don't need to put yourself in an uncomfortable sitting position because you want to watch TV. The TV will adjust itself.
Variation
Mobile TV stands come in different sizes and therefore can support various sizes and weights of TVs. No matter the size of your TV. You will surely see a mobile stand that will be ideal for it. But it is also necessary to consider your TV size and weight critically before you buy a one.
Other Features
Many other additional features are available on many mobile TV stands. These include shelves for keeping your game consoles and TV hutches for other purposes. Some also have a dedicated apartment for cables and other electronic gadgets.
Materials for Making Mobile TV Stands
There are two major materials for making TV stands. Some are made with metals, while others are made with wood. Metallic stands are durable and look more fashionable, but the wooden stands also bring style to the home. The metal is usually finished with chrome to add beauty to it. There are many choices of wood available. The most common types of wood used for TV stands are mahogany, cherry, oak, and maple. Buyers, therefore, can decide based on beauty, quality, or price.
Installing Your Mobile TV Stand
Installing your mobile TV stand and mounting your TV on it is simple. Every package comes with an installation manual, and with the manual, you can do it yourself. However, there are many ways you can assemble your device to utilize the benefits of this home appliance completely. Hence skills are involved in installing and adjusting the setting for proper functioning. To install your mobile TV stand, you have two options. You either do it yourself or hire a professional.
Do You Need A Professional?
While installing a mobile TV stand is an easy task that you can do yourself; sometimes, it may become complicated. Many people got the installation wrong, some got stuck in the middle of installation, and some managed to finish but could have done better. That is why it is always advisable to seek the service of professionals in installations like this.
You may also need a piece of advice on the best type of mobile stand for your home. You must consider the size of your room and the size and weight of your TV before you conclude on the particular mobile stand that will suit you best. But there are many freelance installers that might not be better than you in installing mobile stand. If you decide to hire someone, it is ideal to hire a professional.
TV Bracket in Singapore – How They Can Help You
TV bracket in Singapore is a certified company that is selling and installing TV brackets. It has been in operation for over six years and therefore, has enough experience to advise you on the best mobile TV stand for your home or office. You can also buy from the company and hire them to install it for you.
When you buy from TV bracket in Singapore, you can be rest assured that even if things go wrong after the installation, they will always be around to assist you.