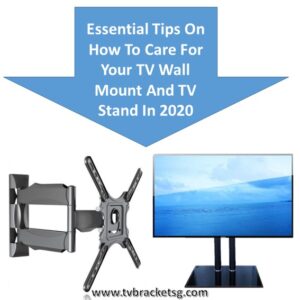 "Your home tells a story of whom you are and a collection of what you have." Nate Berkus quotes. TV sets form a significant component of the interior decoration of your house. How you choose to install your TV matters with options ranging from TV stands to wall mounting.
Whatever your taste is, be faithful to it, for nothing you like is ever out of style. By this, I mean, you choose what best suits you. If you decide on TV wall mounting. TV installation services are available at TV brackets in Singapore.
Modern TV sets come with slim and lighter designs that risk accidents. Mounting your valuable TV to either a wall or a TV stand makes it safer and avoids the risks and breakages.
Advantages of TV wall mounting the TV safe from falls, and you can tilt the TV to your preferred direction. TV stands are also crucial if you need to use your TV in different rooms of your house to move around. Besides, if you dislike those ugly holes on the walls created while drilling during a wall mount. You may consider a TV stand offered by the TV bracket in Singapore.
TV mounting and TV stands are part of our household items. Do we know how to care for them? I want us to look at the care of the TV wall mount, and TV stands from installation to the time of use.
How to Care For A TV Mount Or TV Stand During Installation
Look for a professional who has experience with TV installation services. You cannot take a medical doctor to do veterinary work. It is vital to give work to professionals only.
Identify an area on the wall of your house where you intend to mount the TV. Early preparation ensures there is no furniture below the site. Removing furniture helps to avoid dirt generated from drilling the walls.
Keep children from the site to prevent possible accidents. Nails and screws used in the installation process may cause pricks. I hear stories about mothers complaining that kids insert objects in the ears, mouth, and nose. It is advisable to keep them from running around during the installation process.
During connection of electric cables, keep water away to avoid electrocution. If there is an insulated electric wire, ensure to cover with an insulation tape.
The TV installation professional ensures the TV mount is firm and cannot fall off. Falling of a TV bracket can damage your TV or even accident people in the house. For TV stand with wheels, avoid dragging them around the uneven ground of the house.
Moving them on an uneven floor may damage the wheels. It would be wiser to lift the TV stand during movement. Confirm with the installation professional that you are content with the TV installation. Avoid later personal changes that may damage your tv mount or stand while you do it yourself.
How To Care For A TV Wall Mount And TV Stand While In Use
Once you are sure your TV is in the right position. You need to maintain safety precautions throughout their use.
Most TV brackets are metallic and are tilt able to different degrees. For optimal experience when watching. Avoid cleaning metal with water. Water may cause rusting and affect a TV bracket wall mount's functionality. It may be difficult to tilt or even break due to wear and tear caused by rust.
For a TV stand, it is also essential to consider the construction material used. Suppose the material is of glass handle with care to avoid breaking. Use a dry cloth in dusting all metals to prevent rusting.
During use, your household safety is of utmost importance. Keep all electric and signal cables tucked to avoid falls from the wires lying around. Electrocution can occur if the electric cables get wet during house cleaning.
In conclusion, safety begins with you but not to worry. Our TV bracket Singapore installation services are at your rescue.
We will offer installation services and a follow up service to ensure your safety. In case something goes wrong, we are professionals, and we will solve it on the spot. We are a trusted registered company with six years' experience. Customer Satisfaction is a guarantee without prejudice.
Our customer services are top-notch in making it possible for you to get the best out of our services. It is our duty to make your TV watching hustle free. Visit us for all one-stop-shop services at TV bracket Singapore.