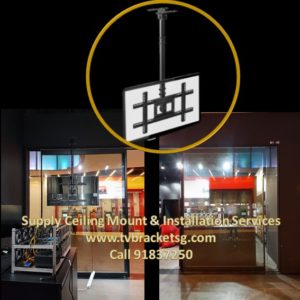 As televisions got thinner and lighter, one of the first things to go was the inbuilt speakers. Over the years of development, LCD TV sound started falling. When all sorts of magic have been done to perform two million pixels into something just thicker than a pencil, it should be understood that something or the other will have to be compromised a bit.
Of course, the screens can produce the best HD quality picture for your eyes. But the built-in speakers are so tiny that you can't even hear dialogues that are being said properly, let alone hear other mayhem that keeps us diverted like car crashes and explosions. Mostly underpowered and undersized, TV speakers aim at the wrong direction and everything sounds out of focus.
Hence, there are many people in Singapore who additionally purchase a high-end speaker and its corresponding mounts. With the arrival of high-res audio standards like Dolby TrueHD and DTS Master Audio, the quality of home theatres has become better with each passing year.  The goal of a good speaker system is to provide the most sonic experience that is capable of matching the life-like display of the TV.
In the terms of sound, sound bars' buying numbers have exploded in Singapore in the last few years as the best sound system for hanging LCD systems. Some reasons are:
Easy placement
You can mount your sound bar anywhere you like. If the TV set is hanging above, it should be placed right below it ideally for the neat look and uncompromising sound quality. Sound bars come in different sizes, ranging from a foot wide to six foot long. The right sound bar will make your movie-watching experience a lot better.
Clear sound
Thanks to technological advancements, most sound bars are packed with a few audio tricks. You will be able to hear the dialogues of the actors more clearly since most sound bars today have added enhancement features. The loudness will be equalised and the overall sound will be clearer.
Single control unit
Once your sound bar is set up, you can use your TV remote to control its volume. Most remotes can be programmed to control a sound bar. Also, most sound bars come packed with a basic remote as well; you can also use remote-controlling apps from your phone to control the speakers.
Connectivity
Modern speakers are equipped with all types of connecting devices. Almost all sound bars have built-in Bluetooth software that allows you to connect your phone or computer as well as your LCD TV.  Some bars are packed with a Wi-Fi capability so that you can listen to music on online streaming services.
The right connection
When choosing a sound bar for your LCD TV set in Singapore, you need to make sure you are looking for the one with the right connections. Today, almost every LCD TV and sound bar are packed with an optical digital output. This connection helps you get the best sound quality and is second only to HDMI.
With the quality of sound going down in the case of LCD TV sets in Singapore, it is definitely a good idea to invest in some great sound systems as well. Packed with such an amazing video quality, a good sound system will help you immerse yourself in a whole new experience.
Sound bars are the best speakers that can work with flat-screen TVs and deliver the best sound quality. Also, TV brackets in Singapore come in similar designs but they vary in quality, you can go through our range of superior quality TV brackets and also avail our professional installation service.