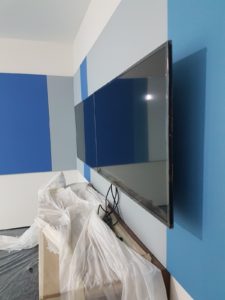 TV brackets have witnessed new innovations in a short span of time. Consumer preferences have changed gradually over the years and consumers are now upgrading to the fancier ones offering from basic to advanced flexibility. At TVBracketsSG we offer all the types of flexible TV brackets to suit your specific needs. Customers who intend install TVs at workplaces and businesses often prefer such models. Our inventory includes Tilting Bracket (only can tilt up down), Full motion Bracket (offers movement in more directions) and Ceiling Mount (hung from the ceiling). Explore our range to enjoy the best TV experience at your home or workplace. We will be delighted to assist you in selecting the perfect TV bracket. You might however want to study the salient features of each type.
Tilting Mount
A tilting TV Mount in Singapore is the next step up from the Fixed Mount type for those who want a bit more flexibility with their TV mount. The primary difference between a Tilting and a fixed Mount is its ability to tilt the Vertical Viewing Angle of the screen, up or down. It is also the only movement of this type of TV mount. Tilting mounts are now almost as popular as the fixed mount thanks to the basic yet important flexibility it offers at a marginally higher cost. Installation is also not much of a work. At TVBracketsSG, there are four distinct models in the Tilting bracket range:
Small:  Suitable for 17" –  37" screen sizes, Tilt angle: 0° ~ +15°, load capacity up to 40 lbs.
Medium:  Also Suitable for 32" – 55" screen  sizes, Tilt: 0° ~ +12°, load up capacity up to 40 lbs.
Large:  Suitable for 50" – 70" screen  sizes, Tilt: -5° ~ +15°, load up capacity up to 150 lbs.
Extra-Large:  Suitable for 70" – 90" screen  sizes, Tilt: -5° ~ +15°, load capacity up to 200 lbs.
These are some of the hits and misses that can help you decide on the type of TV bracket to choose
Offers the basic yet important flexibility of tilting
Marginal increase in cost over fixed type
Easy Installation
Is great for places where there are viewers at varying distances from the TV
Does not protrude much with a wall distance at only 35mm with our mounts
Is not as flush as the low profile type
Higher price although only marginal
Flexibility is not much when compared to full movement or ceiling type mount
All Tilting Wall Mounts at TVBracketsSG are VESA compliant. You don't have to worry about the compatibility of your TV with our mounts, as all TVs made since 2005 are VESA compliant. Be assured of quick and high grade installation service at you home, business or workplace when you purchase any of our TV brackets.