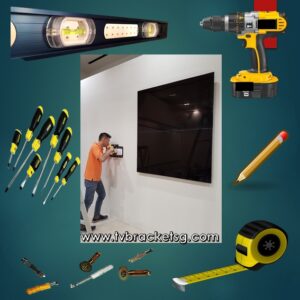 These days, having a flat-screen TV is seen more as a necessity than an option. Compared to previous-generation TV sets, it touts more technological and environmental benefits. It also improves a house's aesthetics and makes it look more livable. However, these benefits come at a much more expensive cost, which makes proper installation necessary. Improper installation of TV brackets or wall mounts can affect both viewing experience and the house's integral structure. However, it is also possible to DIY installing a TV bracket in Singapore. All you need to have are the right tools and the right measurements.
Measure Properly
It takes quite a lot of effort to measure dimensions properly; there must be minimal margins of error. Otherwise, the TV bracket would not fit on the wall, which could render your flat screen unusable. You can draw up a sketch of your living room where a TV bracket in Singapore would be installed. Do not forget to include the dimensions where an approximate space would be allotted for the TV. If you only allot enough space for the TV bracket it would look impractical for the living room. That's why it is necessary to allot enough space to cover the TV dimensions with some allowance.
Also, take note of the height where you would place your TV mount. A standard benchmark is to gauge the height of the center of the TV relative to your sitting height. If you are using a tilting TV bracket in Singapore, you can place it a few centimeters higher.
Lastly, prepare all the necessary tools and equipment needed to install a TV bracket. You must include a screwdriver, a wrench, a cordless drill, a tape measure, a utility knife, and a stud finder. Prepare extra screws and bolts as necessary, especially if the TV bracket does not have a mounting kit.
Use Stud Finders
Now that you have prepared the measurements before installing a TV bracket, use a stud finder. It can locate studs in the wall and help prevent accidental hole-drilling. Sometimes, electricity-related accidents occur because holes were drilled where wires occupied the space. Usually, electronic stud finders are used, as they can determine whether the area behind the wall has high dielectric constant.
Mark Dimensions Properly
Part of proper measuring is marking where the holes would be drilled. For one, it ensures that the house's structural integrity is not compromised. Also, it prevents the error of installing a TV bracket which looks unaligned. If this is not done, the measurements could get messed up pretty easily. Another important thing about marking dimensions is that it also helps prevent additional measurement changes. Therefore, it is necessary that once you identify where you would install your TV bracket, mark it well.
Know Your TV Bracket Specifications
It is not enough to just buy a TV bracket without knowing important details. These include the size and weight of the TV and the size of the bracket holes. Without knowing these factors, the flat screen could become unusable. Also, make sure that you choose TV brackets wisely. Usually they have properties that support TV screens up to this size and weight.
They also have holes with which you need to adjust your screw and bolt sizes accordingly. A nice suggestion is to buy screws, nuts, and bolts whose diameters are slightly smaller than that of the hole. If the screws or bolts are much smaller than the hole, the TV bracket would not support the TV properly.
Choose Us for your TV Bracket Installation Concerns
We understand it is tempting to buy a TV bracket just because we got ourselves a brand-new TV. However, without taking precaution, it would end up costing much more if you decide to go DIY without being careful. That's why we are here to service your TV bracket installation at an affordable rate.
Our company manufactures top-of-the-line TV brackets in Singapore. Whenever you buy one, you can also avail of our complementary installation package. Your TV bracket comes with its own mounting kit and other additional tools. For a small additional fee, our professional staff will take care of your installation concerns.
By reading this article you may think that TV bracket installation looks easy and can be done quickly. However, usually issues arise if things are not done professionally. We are composed of dedicated team members who can solve your issues immediately. Our company is trusted and duly registered with more than 6 years of operation. To us, customer satisfaction and feedback are very much appreciated. Call or message us now!