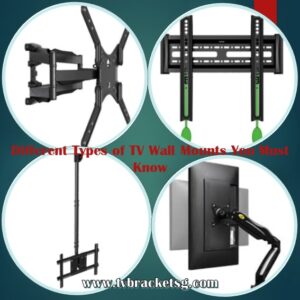 Television has been man's partner for entertainment. It has come in different angles. The modern world has put TV into different aura. Modern televisions are mounted in a wall through a bracket. This article will present you the different types of TV wall mounts that will surely suit your taste. Also, this content will introduce you the ideal and different wall mounts that are often used in Singapore-one of the most active countries in terms of elevating the brand of modernization. Get inspired by how these different TV brackets in Singapore change the landscape of every Singaporean home.
It is undeniable that television becomes a source of entertainment for every household around the globe. This binds the family as it creates a bond in the form of watching TV series, Netflix, and other entertainment platforms. What makes television a picture of modernity is the fact that it has undergone a facelift.
As observed, TVs are not anymore just display in the usual set up. This time, they are levelled up and the modern world has brought this appliance into higher level- the use of wall mount as a medium of displaying television. Let us all be set to enumerate the different types of TV wall mounts that will give a modern atmosphere to your home sweet home. Furthermore, be acquainted on this different TV brackets in Singapore, something that will inspire the whole world to emulate the ways of one of the outstanding countries in terms of technological advancement.
The Fixed TV Wall Mount
Are you having a hard time choosing for a bracket that will surely hold a tight grip to your flat screen direct onto the wall? The fixed TV wall mount is surely the right remedy to this.
This is a TV bracket in Singapore which has a feature of putting the TV stick closer to the wall without it having to stand out too much. Known as the low profile or flat TV wall mount, this is the simplest and most basic design for your television.
So, if you feel like simplicity is the atmosphere your home is looking forward to, then this one is suitable for you.
The Tilting TV Wall Mount
Television provides an entertainment in the form of a still appliance, what more if it can be tilted? This is how tilting TV wall mount works.
This type of TV bracket in Singapore gives you a 15° entertainment experience. By tilting the appliance, the degree of adjustment on your part will be less as the TV can be tilted according to your convenience.  Just do not forget that it can vary from model to model.
This bracket gives the user the chance to adjust the vertical angles of the TV without any hassle. This can be very convenient because there might be necessity of installing TV much higher up the wall.
Take note that adjusting the angles would be very significant in this situation.
Have you had a problem of straining your eyes because you're watching your favourite show in a television where the position cannot be manipulated? Or do you have the vision of carrying a TV set in such a way that it can be tilted in different angles and can be moved up, down, or left to right? If so, then the articulating TV wall mount best suits your taste.
This bracket comes in a handy full degree of motion and its most convenient if you feel like changing positions while watching your favourite TV shows.
This TV wall mount features the swivelling motion of the TV set. It signifies that you can easily pull it away from the wall without the need to remove the television set at all.
The TV bracket gives entertainment and convenience rolled into one.
Conclusion
There is nothing wrong about investing convenience within the reach of your home. And television can be your tool to experience this atmosphere. Choosing the right TV wall mount designs for your home is tantamount to giving yourself the biggest favour.
Remember that television has become a source of entertainment to different households worldwide. Giving it a different face will surely level up the bonding of the family.
The introduced TV brackets in Singapore has given you the idea of how you will remake your home into an ambiance where convenience and entertainment cross paths. Choosing the right wall mount is like giving your family a bonding they truly deserve.
With these mentioned TV wall mounts, it is undeniable that you become the master of your own entertainment.