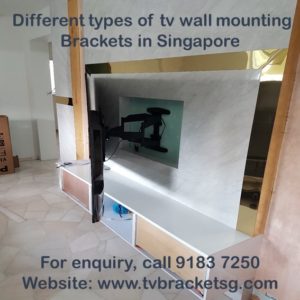 Tv Brackets Singapore is a company who markets tv-related products and services. One of the products they are known for is the TV wall mounting bracket. With the quality they provide over years, customers can guarantee the safety and durability of the TV wall mount – and it comes in different types too. Since Tv Brackets Singapore is selling different types of TV wall mounting bracket, it is suitable and perfect for everyone depending on needs.
Fixed mount or sometimes called as low-profile TV mounts are the easiest to install among all the types of TV wall mounting brackets. Additionally, it is the cheapest TV mount in the market when compared to other types of TV wall mount such as full-motion & tilting TV wall mounts. However, with fixed mount, from the term itself, it does not tilt and do not move upwards, downwards, and left or right just like the other types.
When compared to fixed TV wall mount, this TV wall mount of Tv Brackets Singapore costs a little higher. Tilting TV wall mounts brackets are also easy to install just like the fixed mount bracket. The only difference between the two is you can actually adjust the viewing angle in a vertical aspect. Since you this is a tilting TV wall mount, the cables can be easily changed unlike with the fixed TV mount brackets.
Full-motion TV wall mount, based on its term, can be adjusted in "full motion" or in any part depending on the viewer's want. Since you can adjust your television in any motion, this type of TV wall mount bracket comes at an expensive price. When it comes to the installation process, full-motion TV wall mount is the most complicated type to install – certainly, you need two or more people to install it. Furthermore, if you choose to buy this type of TV wall mount, it will allow you to move your television vertically and horizontally.
If you don't want your TV to be installed or hang on the wall, then consider ceiling TV wall mount as one of your options. Based on the name itself, it is installed on the ceiling which also allows you to tilts & rotate in any direction you want. This type of TV wall mount is also perfect for a very limited space.
Final Few Words
Before you buy TV wall mount brackets, it is better to know its type and some information so that you will be able to know which one is best for you. If you are looking for a company that has already proven themselves for years, order now at Tv Brackets Singapore for quality products.