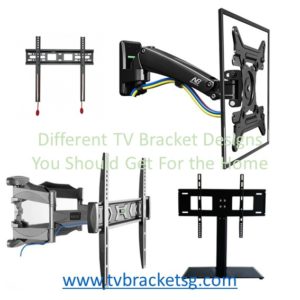 If you want to find the most outstanding TV bracket in Singapore, you have to think about the implement as part of your entertainment system at home. Find a bracket that will give you much comfort when viewing your favorite TV show.
We at TV Bracket SG will certainly be able to help you find the best TV bracket designs for your home. However, try to learn more information about each different kind before making a decision. This way, you will be able to save cash and still enjoy the product as much as you would want.
Top 3 TV Bracket Designs
Purchase a TV bracket in Singapore that will be easy to construct and use in the long term. Some examples of these simple designs would be as follows:
Fixed TV Wall Brackets
This particular type of bracket would work for slimmer TV designs. If you have a flimsy flat screen TV, you should definitely consider getting this particular bracket. This way, you will be able to place your TV closer the wall without any issues.
In addition to this, you should also consider getting a fixed TV wall bracket if you don't have much space in your house. This way, you will not end up having to move the machine around once you navigate the house.
Much like the first option, it will allow you to put your TV closer to the wall without difficulty. This is much more convenient to use because you can easily tilt the TV up and down if you need to stand up but would want to watch your favorite show still.
Angling the TV position will be much easier with this particular type of wall mount. You can place it higher on the walls without having to worry about not seeing the screen at all.
The Articulating TV Bracket
This particular type of TV bracket will allow more flexibility in terms of movement. They can allow the user to pivot the TV screen without difficulty or to make it fully swivel around to provide more range. It is definitely something that you should invest in if you want to enjoy visual entertainment as much as possible.
Depending on the brand of your TV wall mount, you can have varying range of motion as soon as you get it up your wall. This is why it would be a good investment to have TV wall brackets for the home. It will provide you with the best form of entertainment that you can have read in the comfort of your own living room.
With these particular options, you will certainly be able to get the best of the best in terms of moments and usability for your TV wall brackets. Once you do find a bracket that is right for you, you also have to think about installation.
Doing It Alone vs. Asking For Professional Help
Once you get the right wall bracket for your needs, on the other predicament that you need to think about would be how to mount this particular implement properly. Can you do it alone or should you ask for help?
While this particular product usually comes with instructions on how to place it on the walls, it would still be best to ask for professional help with installing your TV brackets and eventually putting up your flat screen. TV Brackets not only claim but also fulfilled the current requirement of the customers in every possible way. This also goes to the company a credit that customers did not register complains against the product.
Final Words
Our website will be able to help you out by giving you recommendations regarding professionals that can help you install your TV bracket in Singapore as soon as possible. You can easily contact our website to gain more information about the products and what you can do to install them properly.
We can also offer professional help if you can't install the TV brackets on your own. So what are you waiting for? Go ahead and contact us at TV Bracket SG for more information. You will surely not regret your decision to do so.