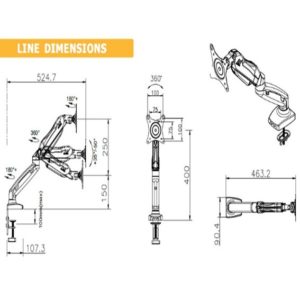 With advances in technology, the workplace has changed rapidly. In less than twenty years , the modes of presentation of data in the office have changed from printed out charts and graphs to highly detailed data graphs that are presented on monitors and screens. A lot of people also spend a large portion of time on their screens at work trying to sort through data, not only when working in the office, but also at home. This has led to the rise in complications due to improper sitting posture and eye defects due to wrong angle of viewing the monitor due to poor positioning. Ergonomic engineers have come up with solutions to these problems by designing desktop monitor mounts that would ease accessibility and comfort when working on your desktop.
The desktop monitor mount is used to hold desktop monitors in place in order to make viewing them easier. They come with an assortment of features to make life easier in the office by reducing the strain on your back and giving you a more comfortable viewing angle so that you don't have to strain your eyes.
Some of the mounts come with the option of being able to swivel them through three hundred and sixty degrees hence making it easy to show those around you what you are  working on. They are also able to rotate hence enabling you to work with whichever orientation you choose, landscape or portrait depending on what you are working on. The height can also be adjusted by up to fifteen inches. This comes in handy whenever you want to show your work to a lot of people, or if you are tall. Some mounts also allow for tilting of the monitor hence reducing stress on your lower back whenever you are trying to view something on your monitor.
These mounts are compatible with a lot of monitors from 17 to 27 inches and weight of up to 6.5kg, which is standard with most monitors. Some have robust interlocking systems for secure and stable mounting. They are also built from strong steel alloys that ensure strength and durability in order to ensure that they do not bend or break while under pressure.
Most importantly, the desktop monitor mount will provide a user experience that will guarantee safety and comfort, especially with its cable holding gaps hence reducing the risk of tripping or electric shock. At TVbracketsg.com you are able to find out more TV Stand in Singapore.