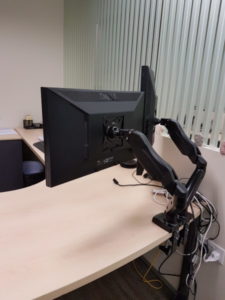 When you want a solution on how to maximize the space on your desk or in your home office, you may think of every other method but when it comes to positioning your desktop monitor, you have to make use of a different mechanism since you want to get a comfortable position to avoid getting tired or even straining your body parts when using your monitor.  As long as you are in Singapore, we bring you the best solution for such dilemma. This is because we bring you desktop monitor mount. This will help you position your desktop monitor in a position that you can adjust when need be.
Furthermore, this type of product comes in different sizes and different makes as well as colors. As a result before you make a step of procuring one it is advisable for you to check and confirm the dimensions before buying anyone of them.
Just to mention some of the features that these desktop mounts bear and due to its quality and sophistications, these desktop mounts are designed to bear heavy loads with the standard one holding up to 15kgs.
Furthermore, to ensure the durability of these desktop monitor mounts, they are made and casted from purely 100% recycled iron, therefore assuring an exceptional strength that can comfortably contain very many different sizes and configurations needs of flat panel visual systems such as LCD and LED display screens and monitors, Flat screen TV and laptops and generally computers.
The best to the advantage of these desktop monitor mounts are as follows;
First and foremost, once you have purchased a desktop monitor mount, you can comfortably and easily raise the screen of your laptop or desktop to suit your viewing angle.
Additionally, since some desktop monitor mounts that are currently in Singapore especially with us have dual mounting arms, you can easily pair up visual systems and enjoy the experience and productivity of using two display systems.
To enhance your comfort ability, the desktop monitor screens are easy to adjust and set up for any laptops and other visual panels especially your monitors and other larger displays.
In order to accommodate and perform as to the stated benefits above, these TV brackets in Singapore are fitted with huge clamps of up to 100x100mm for most LCD/LED displays without leaving the laptops. This ensures that the arm can swiftly shift to ensure it guarantees an ergonomically correct working station.